I looked down through my window. I was flying over a range of some barren mountains with sporadic snow covered peaks in sight. Where was I exactly? My immediate reaction was to look at the screen in front of my seat. The flight map showed we had crossed Pakistan and now I was flying over Kabul, Afghanistan. Afghanistan, one of my dream destinations. At least I could see how it looks from above. 🙂
As the flight moved further up north, the brown mountains changed into sparkling white. It looked like the glistening snow was inviting me with open arms. To say I was excited, would be an understatement!
It was not the first time I was flying to Europe. For me, going to Europe is like going to my comfort zone. But I hadn't visited any Nordic country before. And I hadn't flown Finnair before! And neither disappointed me. 🙂
Finnair doesn't fly from Mumbai but it has direct flights to Helsinki from Delhi thrice a week. It takes 7 and half hours to reach Helsinki.
Here is, how my experience with Finnair was.
Finnair means 'Your shortcut to Europe'.
At the airport:
My flight was in the morning at 10:40 AM and in my opinion it's a convenient time to fly out compared to those early morning/late night flights. I could sleep well through the night and left for airport after a quick breakfast. The flight was on time.
On reaching Delhi airport everything was done very smoothly. While boarding I was pleasantly surprised to see flock of Indians traveling by Finnair. Of all the popular airlines, why would Indians prefer Finnair, so I thought. Later I came to know, Finnair is a favourite with not only Indians, but many other fliers as well.
Like many airlines, Finnair has also introduced a Stopover in Finland Program for long-haul passengers traveling between North America and Europe or Asia. The idea is to offer passengers a small holiday up to 5 days, in order to break up what is a long journey. Isn't it a fantastic idea? If you are travelling between Asia, Europe and the USA, you get to explore what may be a new country for you? The Finnair website also helps you book a hotel or activities in your choice of town in Finland.
In-flight Services:

This is an area where one forms an impromptu opinion about the airlines he or she is travelling. That's what matters the most to most of the passengers. The in-flight services. Right?
The moment I entered the aircraft, an air hostess led me to my seat and made me comfortable. Another one brought a glass of water to the passenger next to me. Though I was traveling in a small group, we all had booked separate seats as per our choices. I had my favourite window seat. 🙂 A trolley of free soft drinks, wine and beer was brought once the airplane was at cruising altitude. The flight attendants on this Finnair flight were generally friendly and attentive. When those around me rang their call buttons, a flight attendant always arrived within a minute or so.
Food & Beverages:
I had pre-ordered a vegetarian meal which was served on time. As accompaniment I enjoyed the Finnair blueberry juice, and then had extra serving of my favourite Tomato juice. Ah! I had red wine too! Of course, there were tea, coffee and non-alcoholic drinks as well. But still I think there is a room for improvement in this section.
The galley at the back had refreshments like aerated drinks and pretzel and rye crackers which could be had throughout the flight, and we utilized this opportunity to straighten our legs, to have a chit chat while enjoying our snacks.
Entertainment:
Although no Wi-Fi was offered on this flight, there was an in-flight entertainment screen provided in each seatback. The screen was clear with brightness level settings and a tilt you could easily adjust. However, I felt the screens were losing the touch screen functions. It required firm touches in order to get a response. So mostly I used the remote control provided under the armrest.
There were movies from different genres and categories "comedy, drama, action and classics", albeit not too many choices. Since it was a daytime for me, I watched a couple of films back to back. I hope Finnair will consider giving more options in entertainment section for economy class.
Interiors:
Traveling in economy class makes me prepare myself for a cramped seat, especially if it is a long flight. But not on this flight. A cursory glance inside the aircraft told me, the seats were not as cramped as they are generally in economy class.
I was happy to see that there was enough space and enough leg room. I didn't feel uncomfortable during the flight. The aircraft was A330-300 with seating arrangement of 2+4+2. There are two sections to the economy cabin, with bathrooms situated in between them. Both sections felt airy and spacious.
The seats were upholstered in pale blue patterned fabric that was well-accented by the lime green and beige packaged flannel blanket and lime green pillow. Also, there was a set of in-ear headphones and water bottle tucked into each seat-back pocket. Seat-back screens were connected to an audio-video on-demand system with remote controls in the armrests, and also had a credit card swipe system for payments.
The plane landed in Helsinki so smoothly that I didn't feel it! With a short taxi to the stand and only a couple of minutes' wait until disembarkation began via an aerobridge.
Below are some other articles on Finland which you'll enjoy.
LIKED THIS REVIEW? PIN IT RIGHT AWAY !!  ↓↓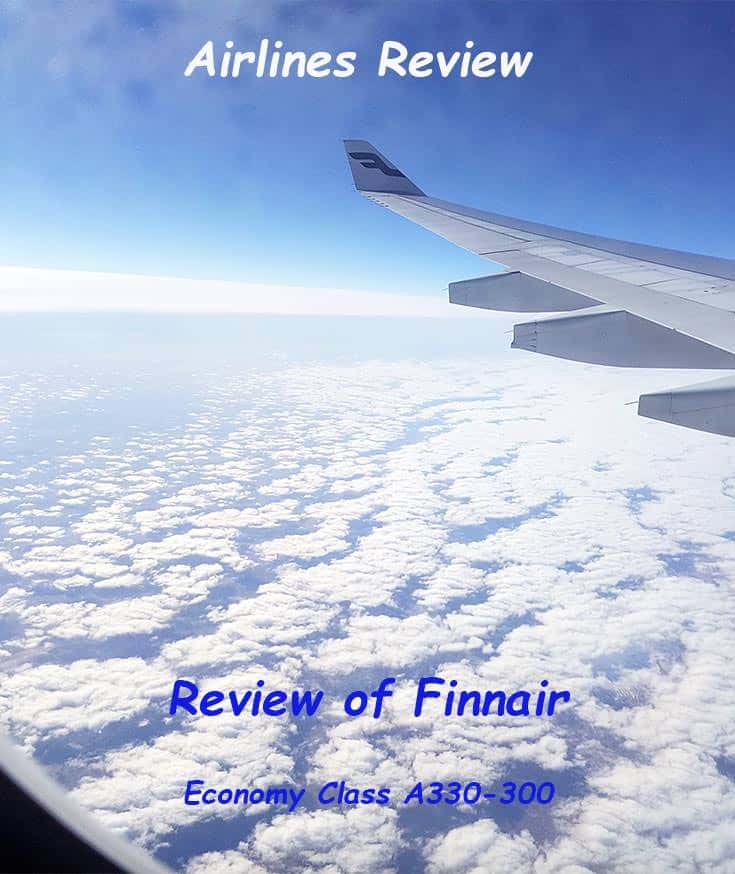 Overall, I was satisfied with the flight. I would certainly consider booking another Finnair flight.
Have you flown Finnair anytime? What was your experience?
If you want to travel places with us, I suggest you to join us on my Facebook travel page.
P.S.- This article belongs to www.lemonicks.com. Reproduction without explicit permission is prohibited. If you are viewing this on a website instead of your RSS feed reader, then that website is guilty of stealing our content. Kindly do us a favour. Please visit our site and help us taking action by letting us know against this theft. Thank you.