We were waiting with bated breath to board the spanking new Airbus A350-900, acquired by Cathay Pacific not too long ago. It was first deployed to fly to Manila and guess what? We were flying to Manila too, retracing the epic first flight, in business class!
We had just been pampered no end at Cathay's largest business lounge at Hong Kong airport. We made good use of our layover period by experiencing the various facilities offered but then that's a different story to be told later.
Comfort
The longish comma came to a full stop and we proceeded towards the front of the aircraft to board the business class section of the airplane. The 1-2-1 angled arrangement of the seats were designed by Porsche to provide maximum personal space to each passenger and afforded an optimum space utilization to seat 38 business class passengers in 2 cabins.
We were duly escorted to our seats by ever smiling and warm hostesses. Both of us had window seats so that we could enjoy the beautiful internals and lovely views outside too through large windows. Our seats were in the front section that had 30 seats in 8 rows. Although our seats were one behind the other, one of us had to stand up, if we had to talk to each other. That is the extent of privacy!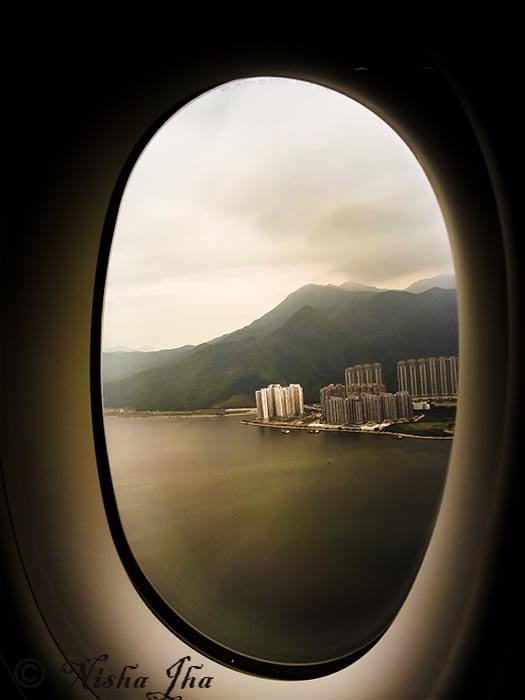 Also for each passenger there is one large sized overhead storage.


There are many factors that ensure passenger comfort and low fatigue during a flight. The main factors are the noise level and the air pressure. Normally, even in pressurised cabins, the air pressure is as if we are at a high altitude and hence the low oxygen and ear aches and so on.
What we experienced here was a more comfortable and less tiring journey owing to reduced noise level inside the cabin. In fact with head phones on, the noises almost stopped. The second factor, and more important was the air pressure inside the cabin was higher (lower effective altitude) and resulted lower pressure difference in the ears, especially during take-off and landing. Nisha always has her ears blocked during & after a flight. This time she didn't even notice!
There are plenty of small storage near the seat to keep your stuff, a small niche at below the knee level to store your cell phone, specs, books etc. The side-panel stores the head phone and the door has a mirror to check out oneself if required.
The full flatbed was wide enough for a comfortable sleep, however we were in no mood for a nap. It seemed a wider than other business class flights of Cathay, but I may be wrong.
Food & Drinks
No sooner had we settled than a tray of drinks appeared as if by magic. Of course the magic was performed by the same friendly cabin crew. We selected a glass of champagne each, to rejoice the moment of flying A350. With the pre-flight libations over, the flight departed and soon we were playing hide-n-seek in the clouds.
On reaching the cruising altitude the services commenced. For drinks we ordered both the signature drinks, Pacific Sunrise and the non-alcoholic Cathay Delight. We can only say, we could not stop with one! There was also an assortment of wines, whiskey, vodka, liqueurs & more and so were a choice of soul-soothing soft drinks and juices.
At the time of web check in we came to know that there are 21 meal options that can be selected 24 hours before boarding. In addition you could just select out of the menu of your choice. The food cart moved and we made place for the food tray by swiveling out the folded table. Since this was a "Snacks" flight, the meal tray was not elaborate but the aroma of freshly brewed Illy coffee wafted through the air and into our nostrils and made sure we had that. We also tasted some classy Chinese tea.
The service was impeccable and one of the best we have experienced.
In a later Cathay flight from Hong Kong to Mumbai business class, we experienced the full-fledged dinner cart full of options for the main course. The food was absolutely scrumptious. Also for between-the-meals snacking, the galley was fully stocked with noodle soup, chocolates, cookies, and assortment of drinks.
Inflight Entertainment
IFE's large stowable 18.5 inches LED HD TVs increased the viewing comfort. Added to that was the large collection of Movies, Music, Games, News, TV shows or just the airplane's external cameras that kept us out of mischief. 😀 The noise-cancelling head phones were just perfect to catch a little snooze in between.
We found a couple of cool functionalities which we could use at the IFE console were "Do not Disturb" and "Wake-up-Call". We came to know later that this feature was exclusive to Business Class travellers only!
Free Wi-Fi internet is available, with limited functions, once the flight reaches 10,000 feet. There is also a paid option for full faccess.
All in all it is exactly what a business flyer needs during short or medium haul flight. Airbus A350 could, of course, with its 15,000km range. In fact a senior executive of Cathay Pacific said that "we are definitely going to deploy this aircraft on long haul routes". We hope it is soon.
If you want to see another review of Cathay Pacific Business class, here it is.
You may read our reviews of other airlines here.
If you want to travel places with us, I suggest you to join us on my Facebook travel page.
P.S.- This article belongs to www.lemonicks.com. Reproduction without explicit permission is prohibited. If you are viewing this on a website instead of your RSS feed reader, then that website is guilty of stealing our content. Kindly do us a favour. Please visit our site and help us taking action by letting us know against this theft. Thank you.