Croatia is a small country known for its natural beauty. It has breathtaking views, more than 1000 islands, and numerous small cities, towns, and villages which just wait to be explored. But there is one more beauty that makes the country a perfect place for all foodies … delicious vegetarian food in Croatia. A unique, heterogeneous cuisine that is rich in flavors, aromas, and nuances.
About Croatian Cuisine and Food
Croatian cuisine is also known as the cuisine of the regions because every region of this country has its own traditional Croatian dishes, tasty cuisine, interesting ingredients' combination, and above all – flavors which will simply seduce you with their richness in every Croatian food. Since Croatia has been influenced by many countries, civilizations, and cultures in the past, Croatian cuisine has quite interesting basics and roots on which Croats grew and developed what is today known as the Croatian traditional cuisine, Croatia food recipes and beautiful heritage.
So, in order for you to relish that delicious vegetarian food in Croatia, here are some of the most interesting and popular vegetarian dishes which are a part of Croatian traditional cuisine. From vegetables prepared by ancient recipes and indigenous pasta to traditional Croatian desserts which are made with simple and everyday ingredients or with seemingly incompatible ones. Let's meet some of the traditional vegetarian food recipes!
Popular food of Croatia
Croatian Pasta Fuži
Istria is often referred to as the best destination for foodies. This beautiful Croatian peninsula is known for its natural beauty, never-ending vineyards, and indigenous pasta. Since Istria has been influenced by Italy in the past, Istrians took some of the basics of pasta preparation and then shaped them into their own Croatian culinary heritage. Some of the most popular types of Istrian pasta are Fuži, spindle-looking pasta with a small hole in the middle in order to beautifully combine with delicious sauces. Traditional and authentic Croatian Fuži is often served with classic, but rich-in-flavors sauces such as tomato sauce with a touch of rosemary and parmesan. Unlike other types of pasta which are made with flour and water as the main ingredients, Fuži is made with flour, eggs, white wine, and just a few drops of water. Besides sauces, Fuži can also be served with various ingredients and vegetables. For example, one of the Istrian specialties is Fuži with truffles. Truffles have quite strong aromas and interesting aromatic nuances, so they beautifully blend with the flavors and the texture of Fuži.
Pljukanci
Besides Fuži, pasta Pljukanci is also one of the popular Croatian food dishes and finds its spot in the list of vegetarian food in Croatia. Pljukanci or makaruni is a traditional, handmade Istrian pasta variety. Pljukanci is made from a bit of flour, water, and a pinch of salt. Sometimes, they can be made with a few eggs too. Pljukanci is known as traditional Croatian pasta which is today combined with asparagus, mushrooms, and other types of forest fruit and vegetables. The dough of this pasta is made into small pieces and then shaped between the palms into small rollers with thicker middle and thinner ends like thorns. Pljukanci is great in combination with vegetables, Mediterranean seasonings, vegetable sauces, truffles, and more.
Also Read : Slovenia's Traditional Welcome Bread Pogača
Simple & Delicious Croatian dishes
There are some Croatian dishes that present simple, easy-to-do, and perfect-to-indulge dishes. They are perfect as appetizers, they can be served as breakfast, dinner, and snacks throughout the day, or they can give a nice touch to the festivals and gatherings.
Cheese and cream
Cheese and cream are a really simple dish. It presents an everyday meal prepared with fresh cheese and homemade sour cream. It is also served with homemade bread and tomatoes, or some other vegetables like onions and bell peppers. Speaking of bell peppers, they can be filled with cheese, garlic, and red pepper. Fresh cheese has been eaten since prehistoric times. It was a favorite food of the Egyptians, Greeks, and Romans, so no wonder it has such a vital role in Croats' diet too.
Žganci
Cornflour can be used in many recipes and for the preparation of many dishes. In the Croatian region of Zagorje, cornflour is used for the preparation of Žganci. Žganci are poor man's food made of cornflour, salt, water and butter. The best way to describe them is to say they resemble a bit of pudding but a savory version of it. Žganci are served with sour cream or yogurt and they are simple but perfect for breakfast or dinner. They can also be served as a side dish with the main course.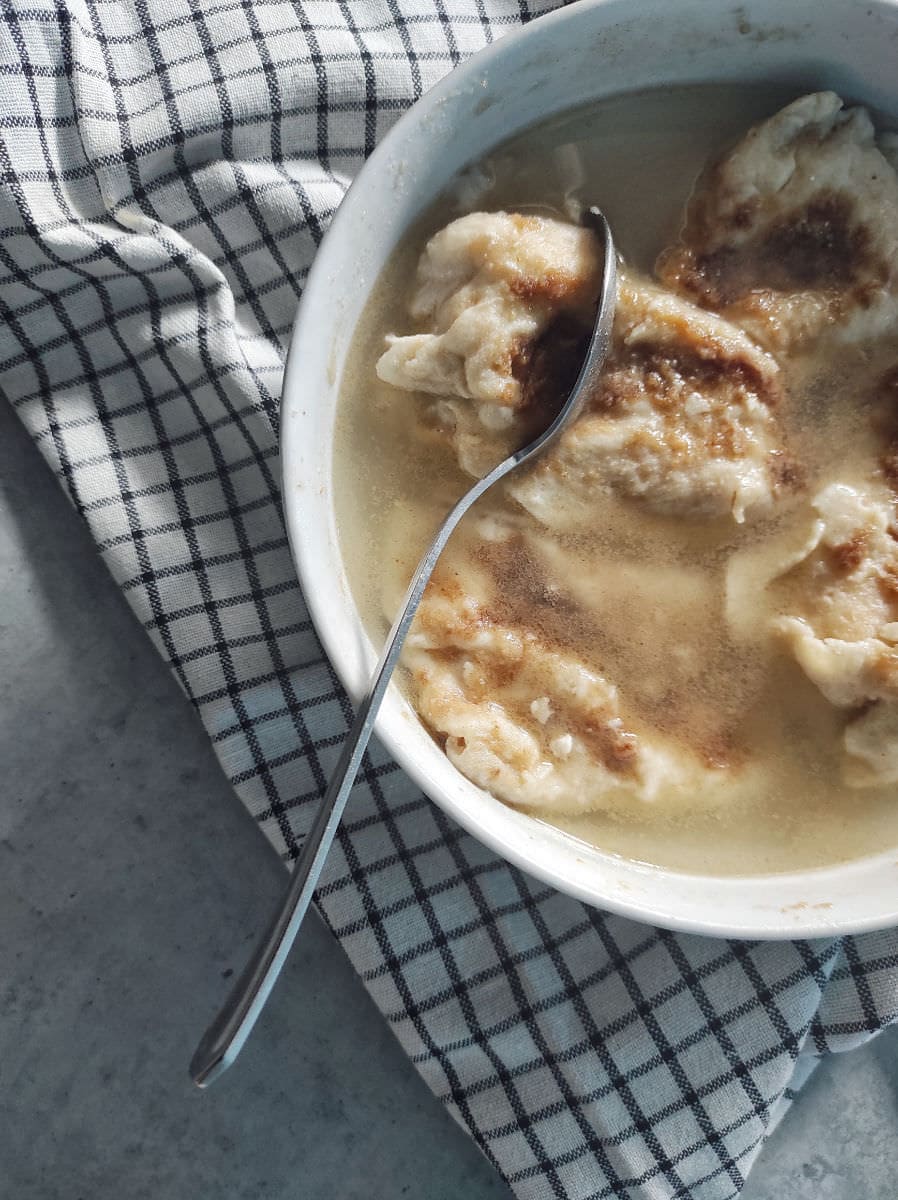 Štrukli
Štrukli are quite an important dish in Croatia and they are the trademark of the already mentioned region Zagorje. Štrukli present a homemade pull dough with a delicious filling and they can be prepared in various ways; baked or cooked, with a sweet or savory filling. This typical food of Croatia can be a great appetizer, tasty main course, or amazing Croatian dessert! Štrukli can be filled with fresh cheese, poppy seeds, various vegetables like pumpkins, squash, beet, and spinach, or fruits such as apples and cherries. Those are all versions perfect for baking. When it comes to the cooked Štrukli, they are filled with a mixture made of fresh cheese, eggs, and sour cream, then cooked and served in a soup. Quite outstanding specialty!
Istrian Soup
Speaking of traditional Croatian soups, Istrian soup is something special. It is a soup that is not actually a soup, and it presents a comfort during the cold days and a perfect delight during those hot summer months. Istrian soup is a warm wine with sugar and olive oil. It is served in a bowl called bukaleta and with grilled homemade bread which is then dipped in the wine. And that's it. This is a perfect soup for the beginning of every gastronomy adventure.
Vegetable Dishes of Croatia
Of course, Croatian cuisine has numerous vegetable-based dishes which are prepared by old and traditional Croatian recipes. The dishes are made with simple, everyday, and accessible ingredients and their final flavors are quite interesting and rich. There is no dearth of vegetarian food in Croatia.
Soparnik
Soparnik is an amazing specialty that origins from Dalmatian Poljica. In that area, there are harsh living conditions. Extreme heat, drought, and shallow soils aren't friendly when it comes to cultivation. So, in the past, people used the simplest ingredients in order to make tasty and rich in nutrients Croatian dishes. And due to that, Dalmatian Poljica now has quite an interesting cuisine and one of its most famous dishes is called Soparnik. Soparnik is a simple savoury pie with a filling made of Swiss chard, onion, and parsley. The original season for the dish was the colder time of the year when older, sweeter chard was available. The dish quite nicely combines all the ingredients into a delicious palette of flavors and aromas. Due to its old way of preparation, Soparnik has a protected geographical indication at the level of the European Union.
Chard on lešo
Since the chard is already the topic, there is one more interesting and delicious recipe made with this simple and nutritious vegetable. Chard on lešo is a traditional recipe mostly prepared in Dalmatia. In this Croatian recipe, chard is cooked and mixed with potatoes, garlic, salt, and olive oil. All the flavors are beautifully combined into a healthy and tasty dish. Chard on lešo is a simple meal that is being prepared in Dalmatia for centuries.
Istrian frittata
Besides so popular chard, Istrian frittata with vegetables is certainly a delicious dish which needs to be mentioned when talking about amazing vegetarian dishes. Frittata is made with eggs, milk, vegetables, and seasonings. One of the best vegetable combinations is made with zucchini, garlic, onion, asparagus, and parsley. All the ingredients (along with eggs and milk) are mixed, topped with parmesan, and then nicely baked in the oven. Istrian frittata is great in harmony with a glass of dry white wine.
Sweet, Savory & Unique Desserts of Croatia
There are some quite unique Croatian desserts that will certainly seduce everyone's palate and taste buds. Some of them are sweet while the other ones are savory. Some of them are made with just a couple of ingredients and the other ones are made with seemingly incompatible nuances which are, to everyone's surprise, perfect together.
Rožata
Rožata, the queen of all the desserts, is a great example of how to make a perfect dessert by using simple ingredients. Rožata, rožada, or rozata is a Dalmatian traditional pudding made with vanilla flavoring, orange peel, rose liqueur, and caramel dressing. The recipe for this dessert dates back to 1300 and it presents a beautiful heritage of the region Dalmatia and the town of Dubrovnik. As you could probably tell by its 3 names, this dessert is prepared a bit differently on almost every island and town on the Croatian coast, but its basic recipe is the same everywhere. Besides that, every variation of this amazingly delicious dessert hides simply outstanding flavors and nuances.
Dubrovačka torta or Dubrovnik's cake
Dubrovnik is known for its traditional cake too. Dubrovnik's cake (Dubrovačka torta) is a beautiful dessert from the past and it is one of the best sweet delicacies on the Adriatic coast. The recipe dates back to 1585 and it brings sumptuous flavors which will certainly seduce your taste buds. The cake combines 2 biscuits … one biscuit made of walnuts, and the other made of almonds, while the top is covered in chocolate. Simply amazing dessert!
Međimurska gibanica
Međimurska gibanica is one of those desserts which you will love or hate, there is no in-between. This cake is a Croatian trademark dish of the region Međimurje and it is made with (at first) incompatible ingredients which in the end, are quite compatible. Međimurska gibanica has 4 different layers – ground walnuts, poppy seeds, cow cheese, and apples. Now, all those layers may not sound too good, but they truly bring the best in each other. Also, this combination is pretty amazing too. The ingredients are intertwined into a beautiful palette of flavors and aromas which will be really hard to forget.
Kotonjata
Kotonjata or kotonjada is a traditional sweet in Dalmatia. It is prepared by an old recipe and tradition, and it presents quince cheese. Kotonjata is stored with bay leaves and served with candied almonds, walnuts, and dried figs. It is great in the combination with sweet liqueur or prosecco. Kotonjata is perfect for snacking throughout the day or as a light and simple dessert.
Zlevanka
In the Croatian regions Zagorje, Međimurje, and Podravina, there is one dish that needs to be mentioned, and it is called Zlevanka. Zlevanka, kuruznjača, kukuruznjača, bazlamača, or zlevanka is a simple dessert made of cornflour, sour cream, and yogurt, and coated with sweet cream. This is a savory dessert, but it can certainly be prepared as a sweet version too. Zlevanka is really easy to make while its final flavors are beautifully combined into a rich-in-flavors dessert. Besides that, it is a great snack throughout the day and perfect for those coffee or tea afternoons.
Also Read : Egg Tarts in Macau
These are some of the must-try Croatian vegetarian dishes. These vegetarian food in Croatia are traditional and prepared by old recipes which certainly have not lost their charm and richness in flavors. Of course, there are many more vegetarian appetizers, main courses, simple dishes, and desserts that are delicious and perfect for hot summer days and nights. They are waiting to be discovered by everyone's palate and taste buds. The most important part is to simply explore, wander, and enjoy tasting new and interesting flavors!
Are you a vegetarian? Which of these dishes would you like to try out? 🙂
Are you on Pinterest? PIN it for later use.