We return to the main island after our jaunts across the Taipa island, known for its glitzy brand new casinos, charming village in the quaint Coloane, the southernmost island of Macau. Of course not before tasting the mouthwatering egg-tarts and a sumptuous dinner in Miramar.
We can't believe that we had covered all these and a lot more, in the course of just half a day. Many of these will make it into an article or two in days to come!
There was just one more thing to do before turning in for the night … no, not the casinos. We move to an old part of the town towards the temple of Tou Tei, the god of land or earth or property or even wealth as you may want to call him as per your context. He is so important that it is not uncommon to see a small idol or statuette in front of most homes as a mark of respect and with a hope of protecting one's property and may add to the assets. 🙂 He is omnipresent!
On reaching the temple through the narrow lane, we don't climb the steps of the temple.
Oh… that can wait till tomorrow, the main day dedicated to Tou Tei, Feast of the God festival. Rather we go into an auditorium situated right opposite it. A huge hall full of seats with a stage towards the far end. It appears as if all seats are already taken. After all, it's a free event. However our host waves her magic wand and lo and behold three of the finest seats fall vacant. I don't know if it was because of the respect the Macanese had for us Indians or the sheer woman power of our host. 🙂
We are just in time. The curtains rise and after some introductory remarks the grand opera begins. The Opera is performed by a very well-known and respected troupe from mainland China.
The story is from Chinese legends and the characters are portrayed by actors in interesting makeup, dressed in their silk fineries. Nearest equivalent I can think of in India is the 10 nights of Ram-Leela musical-drama or the Kathakali in Kerala. Like in most opera, it is over dramatized with songs and exaggerated actions and that's what makes it most beautiful. The story goes as ….
 The Sword of Loyalty
Wong Mong killed the Han emperor and usurps the throne. He is very happy with the Commander Ng Hon, so he married his daughter, the princess Lanying to Ng Hon.
One day, a young man from the family of the previous Han emperor, Liu Xiu, wants to regain the throne. He assembles a small army and goes to fight with Wong Mong. Commander Ng Hon seizes Liu Xiu and wants to take him to the emperor.
Just then, Ng's mother reveals to her son that Wong Mong is in fact his father's murderer. She brings out the Sword of Loyalty, belonging to the dead father and asks Ng Hon to take the sword and kill Wong Mong. She tells Ng Hon to also kill the princess, lest his love for her should stop him from avenging the murder of his father.
When he returns to the palace, he sees his wife, the princess, is praying to God. She asks God to bless her husband. Ng Hon is moved by her good intentions and tells her about the murder of his father. The princess is moved and realizes that her father is really an evil man. She supports her husband and encourages him to kill Wong Mong. Ng's mother comes with a red cloth to hang herself, so that Ng Hon does not have to worry about his mother being held as hostage and before she dies, she again extracts a promise from Ng to kill the emperor. The princess kills herself with the sword so that she can take care of Ng's mother in the other world.
Ng Hon, then, sets fire to the palace and kills Wong Mong. He later helps Liu Xiu to regain the throne.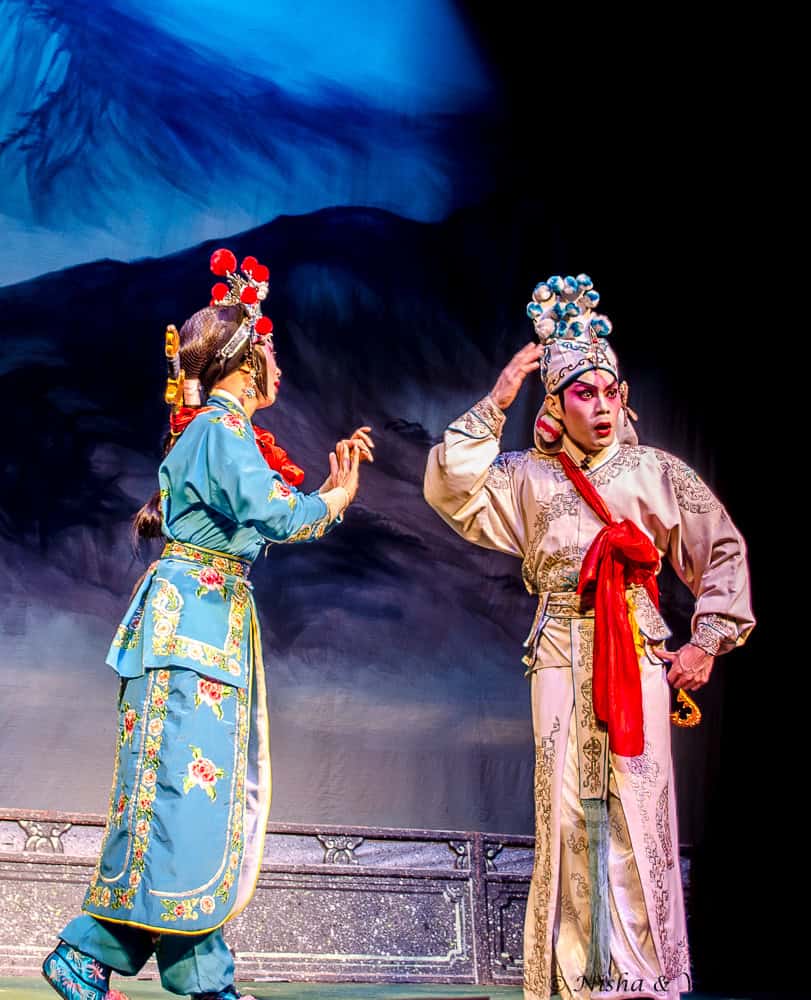 The pictures, indeed, tells the story.
A short interview with one of the characters tells us that, there is a phenomenal amount of hard work put in before the show can be performed in front of the audience. It involves flexibility, strength and the stamina to be able to carry the heavy dress and at the same time sing, dance and perform martial arts.
Many of the actors start as young as nine. This form of Opera has been in vogue for more than 1000 years now, gradually evolving from a simple drama to the current form that includes elaborate make-up, music, singing, dance and drama. In the olden days the female part was often performed by a male dressed up as a woman! Much like in India. (Something more on the troupe and so on).
This is clearly the icing on cake as far as our first day at Macau is concerned. We leave much contented to our Hotel to find a surprise bottle of champagne and several chocolates waiting for us! That's a different story altogether.
If you want to travel places with us, we suggest you to join us on our Facebook travel page and Twitter.
P.S.- This article belongs to www.lemonicks.com. Reproduction without explicit permission is prohibited. If you are viewing this on a website instead of your RSS feed reader, then that website is guilty of stealing my content. Kindly do me a favour. Please visit my site and help me taking action by letting me know against this theft. Thank you.