Allahabad Ardh Kumbh Mela 2019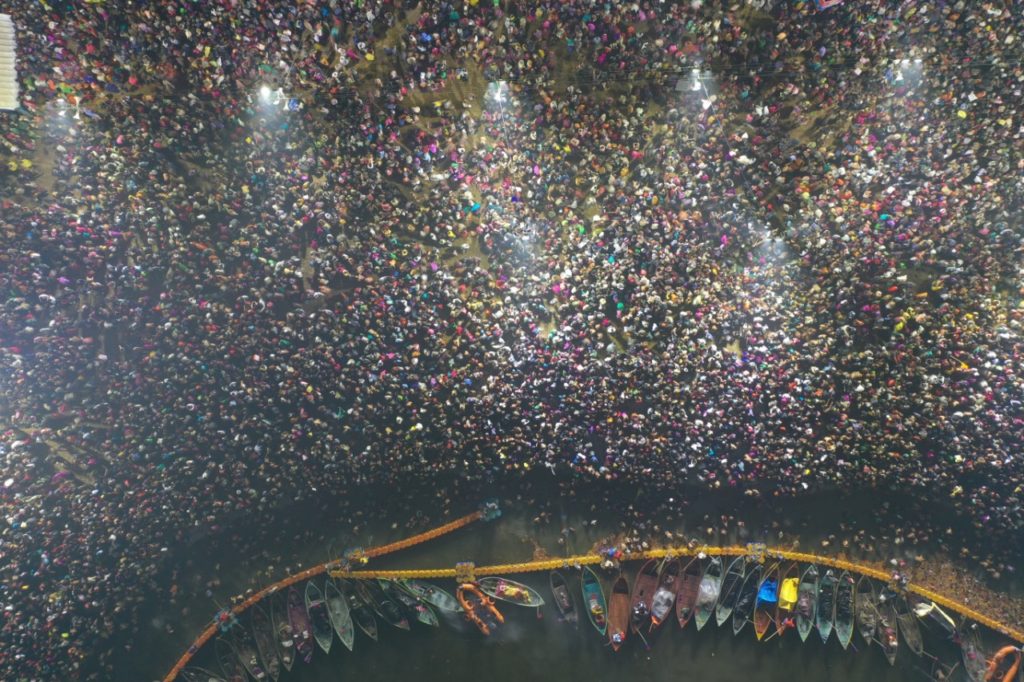 There are this Kumbh Melas and that Kumbh Melas and then there is the Prayag Kumbh Mela 2019, at the Triveni Sangam (Confluence of three rivers), Allahabad, now called Prayagraj. From time immemorial Hindus from all over the country came here to take a dip and cleanse themselves of all their sins in the pure waters of Ganga, Yamuna and Saraswati (the elusive underwater river).
Kumbh melas are held in 4 places (Haridwar, Allahabad, Ujjain and Nashik), in India each at an interval of 3 years from the previous. It follows a 12 year cycle for a particular city. This year, however, was a Ardha (half) Kumbh Mela but the atmosphere was, as if it was the Maha Kumbh Mela. Kumbh Mela has been included in the representative list of UNESCO Intangible Cultural Heritage of Humanity.
We bring to you for your appreciation a set of photos which captures the essence and the mood of the largest congregations of pilgrims anywhere in the world.
There are certain auspicious days called, the Shahi snan (royal bath) day, during the month and a half of Kumbh Mela. It is said a dip on these days are powerful than on any other days. The above photo was taken from a chopper on Mauni Amavasya day, one of the shahi snan days. It is said over 30 million (3 crores) pilgrims took the holy dip at Sangam, Prayagraj on this day. The above photograph was taken early morning, before sunrise on Mauni Amavasya day.
The plains of river banks are transformed into a veritable city, which can accommodate Akhadas, Ashrams, accommodation and other facilities for pilgrims. There are over 100,000 portable toilets managed by 20,000 people working round the clock. 32,000 hectares of land were prepared for this mega event.
Street plays enacting stories from Hindu Religious books
Prayers are offered to the holy rivers in the evenings called Aarti. Rituals are performed in conjunction with chanting of religious scripts or prayer songs. These are often performed by senior students of vedas and upanishads, led by their guru.
Trainee priests conducting evening prayers.
A milling crowd of pilgrims from far off places waiting to be let on the kilometer long pontoon bridges to go to the confluence. I have not seen a more disciplined crowd of over 1000 people.
On one side there are rustic men and women in their traditional attire walking towards the bathing areas and on the other is a smart lady police officer guiding them.
For most pilgrims it is more than a day's outing. They bring their own raw food which they can cook in designated places and after their dip can enjoy various activities like sermons, plays and dances. The board says "Preachings from Srimad Bhagavath (Mahabharat)".
A bunch of women devotees smilingly oblige for having their pictures taken. Most people are simple and as such, do not mind posing for photos.

A group from Rajasthan resting after having their bath in the confluence.
A modern Sadhu wearing branded hoodie!
A group of Sadhus chanting mantra.
A dancing Sadhu! Some of them are so into themselves and oblivious of the milling crowd outside. This sadhu performs a beautiful dance as his prayer to the gods.
Many of them have quite a flexible body.
Normally Naga Sadhus or Naga Babas are non violent unless provoked. This photo was taken just a few seconds before he roared into action with a stick on someone. I did not wait to see who it was… 😀 😀
On days of Shahi Snan (Royal Bath), the Naga Sadhus have preference over all others. They are easily recognizable by their ash coated naked bodies. Normally they live in the jungles or high on the Himalayan mountains. Only during festivals such as this can one see them in the cities.
Even at high in the mountains they do not wear anything and can withstand the cold very easily.
We did find that many of them were indulging on weeds.
Hundreds of devotees with their families took the plunge on this auspicious Mauni Amavasya (Silent new moon day).
Of course we want to tell the world that we took the dip! Selfie everywhere !
The words in blue says "Take another dip and cleanse your mind of all evil thoughts".
Do you love to travel to experience a religious mega festival? If yes, which ones?
If you want to travel places with us, we invite you to join us on our feed or Facebook Travel Page.
P.S.- This article Prayag Kumbh Mela2019, A Photo Story belongs to Le Monde the Poetic Travels, an Indian Travel Blog, by the traveling couple, Nisha & Vasudevan R. Reproduction without explicit permission is prohibited. If you are viewing this on another website rather than the RSS feed reader or www.lemonicks.com, then that website is guilty of stealing our content. Kindly do us a favour. Please visit our site and let us know. Thank you.