Banganga Music Festival
I had thought of putting a foreign locale as my first working post here but as luck would have it, it had to be a place where I live. Yes, it is about Mumbai.
Yesterday I went to see Banganga music festival. It is a ritual every year in January, to have a cultural extravaganza at Banganga, where top artistes from around the country perform live Hindustani classical music concerts. Cultural enthusiasts attend the festival and feast the soul as well as the mind as the sun sets.
For the last two years I have been thinking of attending this but for some reason or the other, the lady luck denied me such an opportunity. This year I didn't want to miss it at any cost. When I came to know of the dates of this festival (6th and 7th Jan), immediately made my plans and blocked my agenda.
Normally the festival is for two days. Yesterday was THE day when my dream was about to come true. We started off on time, took a local train for Grant road (as far as possible I prefer trains to cars/cabs for obvious reasons), took a cab for Walkeshwar, the place of happening.
That area of city is always under strong breeze for two reasons-one it is on hills (Yes, I am talking about Malabar Hills.. one of the classy localities of Mumbai), two-it is like a peninsula surrounded on three sides by sea.
But many of the roads on this route are only 1 + 1 lane, so you can imagine the rate at which traffic moves. We were more worried because we couldn't book the tickets in advance. Anyways, reached there at 10 minutes to seven, the official start time. Luckily tickets were available (Rs. 200/- each).
We bought some packets of Lays and water and off we went to the seating area. No, the one in pic was reserved for special invitees.
Before I describe further, something about Banganga.
Mythology has it that Lord Ram on his way to Lanka in search of his wife Sita, stopped on the hillock of Malabar Hills. His followers were worshippers of Shiva. Thus, he wanted to build a Shiva temple for them, sent his brother Lakshman to Benaras to get a shivalinga to be established here. Before it could be brought, he had an alternative constructed from sand.
As I said, it is a peninsula, there was no dearth of sand. The followers formed a shivalinga from sand and called it Walluka Ishwar –
'walluka' meaning 'sand'
and 'Ishwar' meaning 'the God' in Sanskrit. Hence, the temple Walkeshwar temple.
Though surrounded by water from all sides, the people could not find fresh water to quench their thirst or perform daily puja. Seeing this, Lord Ram shot a baan (arrow) into the ground and sprouts of fresh waters of the holy Ganges sprang from that spot. Centuries later, one king built a large and beautiful tank in stone, to store the water of this Banganga. Needless to say, the tank always has fresh sweet water despite being located just a few meters away from the sea.
One can see numerous, beautifully sculpted four hundred-year-old temples of various deities and modern skyscrapers around the sacred tank. Nowhere are Mumbai's paradox more evident than at Banganga. On pious occasions, thousands turn up to take a ritual dip in its waters.
Now about the festival. On first day, Santoor Player Rahul Sharma (son of Pt. Shivkumar Sharma), First Indian Lady Tabla Maestro Anuradha Pal and Bhavani Shankar on 'Pakhaawaj' were to perform.
The surrounding was amazingly beautiful with all decorations and lights. The said stone tank which is actually the size of a small pond looked beautiful with ducks swimming around oblivious of the surroundings.
The stage was constructed on one side of the rectangular tank, on the steps protruding over the tank waters.The sky had been blown clear by a cool steady breeze that set in after sunset.
And for a change I didn't mind waiting for the chief guest D.K. Shankaran, Hon'ble Chief Secretary, Govt. of Maharashtra who was to inaugurate the function. He didn't make us wait for long and the function started off at 7:20 pm.
First Rahul Sharma and Bhavani Shankar played a composition together for around 20 minutes. Then for next one Anuradha joined them to make it a superb composition.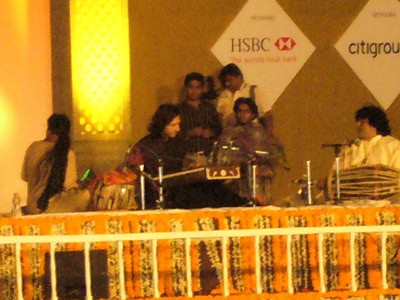 This year also, with restrictions of silence zone, organizers had introduced an innovative sound solution for the Festival. There were no loud speakers. Instead they had installed transistors at every 4 meters and the sound emanating out of them were very soothing to ears.
Later, all three played a composition called 'Celebration Kashmir'. It was magnificent. Felt like sitting in a 'shikara' (a Kashmiri houseboat) on Dal lake. You might be knowing Santoor happens to be an instrument of Kashmir.
The breeze was very cold and by 8 PM, though I was wearing a full sleeved top, I was feeling very cold. There was nothing to cover myself except a scarf.
The evening was soon harmonized in a beautiful awesome night. The entire area surrounding the pond was full. Pin drop silence from audience and only the soothing music to fill in ears, it was definitely a priceless evening. By 9:30 I was shivering with cold but no way had I wanted to leave the place.
And when it finished, I think I was the most contented person.
While walking back to the main road I saw the most colourful minar (tower) in my life.
Note:-All the pictures are taken by me.