Raja Bhoja (राजा भोज), the Architect par Excellence
Raja Bhoja, the ruler of Malwa, was standing on the banks of the huge reservoir of his own creation. He had created this huge lake by damming Betwa river and several tributaries, looking at the hillock. This process also created the big lake in Bhopal, perhaps. He had made his mind. This was the place he would build the biggest temple dedicated to the Hindu God Shiva. He had heard of the big Brihadeeswara temple opened to the people of Thanjavur (Tanjore) in South India, built by the King Raja Raja Chola I, in 1010 CE. Thus far the biggest Shiva temple in the world. In the same year the people of Malwa crowned young Raja Bhoja as the ruler of Malwa. The temple, Bhojeshwar Shiva Temple in the village Bhojpur, Madhya Pradesh was ostensibly named after the great King Bhoja.
"This is my simple religion. There is no need for temples; no need for complicated philosophy. Our own brain, our own heart is our temple; the philosophy is kindness"

The Dalai Lama
When I visited this place, a question arose, would I meet Mr. Gangu Teli too (of the "Kahan Raja Bhoj, Kahan Gangu Teli", fame) 🙂 and smiled at my facetious speculation. (कहाँ राजा भोज , कहाँ गंगू तेली) .
A first glance from afar told me that this temple was not an ordinary temple, in fact it did not look like a temple at all. Just a gigantic red cube. It was going to be exciting!
Bhojeshwar, the Shiva Temple in Bhojpur
The temple structure was on a 4 meters high raised platform. The platform was 35 M by 25 M, excluding the sanctum sanctorum. We climbed the flight of steps and reached the platform of the temple with the famed archaeologist, Padma Bhushan Mr. K K Muhammed, ex- Regional Director of ASI, who looked at the temple as an artist would look at his creation, and why not. While Raja Bhoja must have initially conceptualized and built this temple, it was decrepit when Dr Muhammed first saw it in 2004 or so.
There were a couple of small canopies where priests were performing prayers. What caught my eyes was the red sandstone structure in the back-end of the platform. This was the Garbhgraha or the sanctum sanctorum. Again, something else was conspicuous by its absence. There was no Mandapa (Pavilion) which is normally a must. Another thing absent was the temple tower or Shikhara . Obviously this temple was unfinished. It might been bigger than Brahadeeswara Temple of Thanjavur (Tanjore), if it had been comlpeted.
Probably he wanted this to be one of the Jyotirlingas. Some people call it Somnath of the East and some others, Somnath of the North.
The Sanctum was set to a square plan of about 15 meters to a side. As I walked towards the sanctum, I could discern the flash of the Sun's reflection from the well polished surface of the Shiva Linga.
On the front wall there are a few sculptures of Dwarpaal (door keepers), Apsaras, Ganga and Yamuna. There were many blank patches indicating that the sculptures had fallen prey to the weather elements or maybe someone took it.
On the other 2 side walls and the back wall there was a balcony structure just as an ornamentation. Other than that all these 3 sides do not have any carvings or sculptures at all. Pretty plain, if I may say so.
This Shiva Linga purports to be the biggest in the world from Ancient India. The lingam at 2.3 meters, was probably a few centimeters taller than the Brihadeeswara temple. Lingam and pedestal together is 8.23 Metres tall. However If you include the base then Brihadeeswara temple is bigger. At any rate, the Shiva Linga of the Bhojpur temple India, was by far the biggest Shiva Linga I had seen in my life.
The pedestal was a two-layered square base. As per Hindu scriptures, the bottom most layer depicts Brahma (Brahma Bhaga) and the middle layer depicts Vishnu (Vishnu Bhaga), upon which Shiva Linga (Shiva Bhaga) rests. In most cases the Brahma part remains below the ground but not here. One could climb down to the bottom of the Garbhagraha.
When I descended into the Sanctum to the base of the Shiva Lingam, I was completely dwarfed by the Shiva lingam. There were four huge pillars each about 12 meters high, carrying the weight of the temple.
The four brackets supporting the cornerstones feature four different divine couples: Shiva-Parvati, Brahma-Savitri, Lakshmi-Narayana and Sita-Rama.
The dome had concentric circles of designs much like it would have been in those days.
Restoration of Bhojeshwar, the Bhojpur Temple
Here are a few pictures of Bhojeshwar temple as Muhammedji found it.
You will see that the temple was just a big pile of rocks and stones. On clearing it was found that the roof was just a gaping hole. For 1000 years the lingam was open to sky with water pouring down every monsoon and the lingam was damaged. Entrance pillar of left side was missing, too.
Mt Muhammed had got a fiberglass cast with an appropriate design for the dome, so that it did not look out of place. The dome appears to be supported on the back of 8 heavenly bodies playing various musical instruments. The damaged lingam was also repaired.
From then, to what it looks today is no mean achievement. It required an archaeologist, a scientist, an architect and a psychologist, who can try to enter the mind of the original builder to restore this marvel and Dr. K K Muhammed was all these and more.
Just imagine a million piece 3D jigsaw puzzle which one has to piece together. Now imagine that some of the pieces could weigh as much as a tonne or even more! And lastly you do not have a finished picture to refer to. Did I hear someone say archaeology is a cakewalk??
As per Shri K K Muhammed, the restoration of any monument can happen only after understanding the temple history and the architecture style prevalent in the time and location of its original construction. In this case, the plans were all 'written' on the rocks around the temple and of course the base document to go to was the treatise on architecture and iconography written by Raja Bhoja himself, the Samarangana-Sutradhara. Obviously one must study and understand all the 83 chapters of this treatise before making restoration plans.
Before that one had to be an expert in the Sanskrit language. Most of these documents and inscriptions are in Sanskrit, the language of the learned at that time.
As per temple history of India some standards may be applied in understanding a Hindu temple structure. Temples are supposed to mimic a human body. Where the base is the feet , the side vertical walls are the legs, the Shikhara (rectilinear or curvilinear tower) the body and finally the kalasha ( the head).
As part of restoration, new stones had to be carved in place of missing stones but had to be left bare as per world heritage policies on monument restoration. One of the pillars was missing and a 12-tonne stone was sourced from Agra and best masons were put to work to make it match the original. One wonders how did people lift such heavy stones when Bhojeshwar was originally built.
Even the building plans drawn on the rock faces have been cordoned off and other surrounding areas have lawns to provide a fresh feeling.
Why is Bhojeshwar Shiva Temple called the unfinished temple?
The following list of points clearly suggests that the temple had not been completed.
The Mandapa , which is generally present in all temples of that time onwards is not present.
The main body (tower) or the Shikhara is not present.
The long earth and stone ramp, used to lug around heavy stones, using workers and Elephants, is still there. It is said the ramp is removed when the building is completed. If the structure had reached greater height , the ramp would have been even longer. As of now it appears to be around 100-200 metres. For Tanjore Big Temple, they found the starting point of the ramp many kilometres from the temple.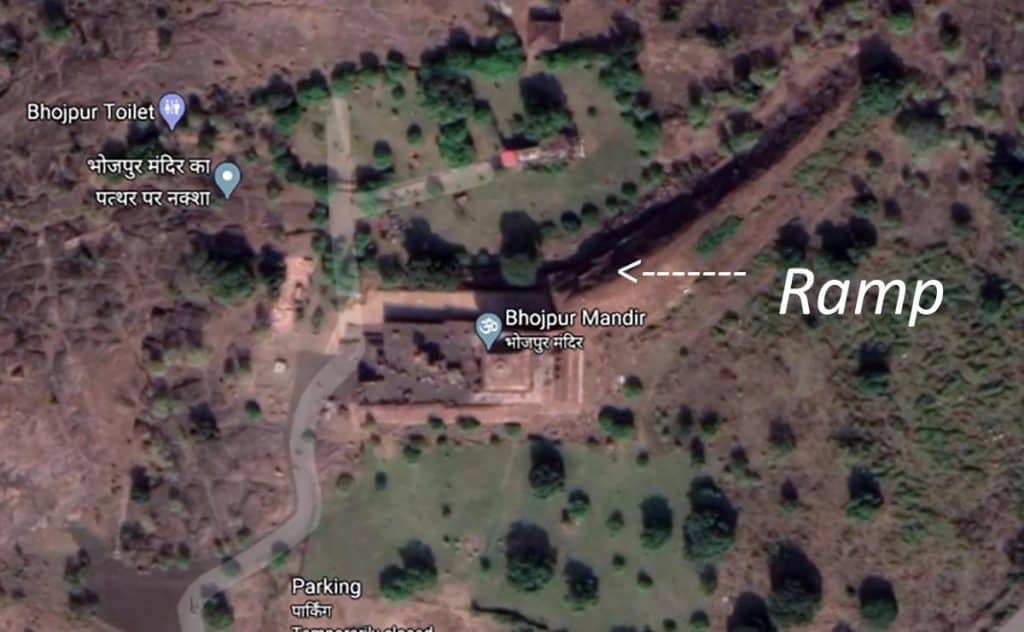 Why was Bhojeshwar Shiva Temple left unfinished?
When we try to find answers for this question after almost 1000 years of temple history, it seems to be an uphill task. There is no written material on why Raja Bhoj stopped the construction of the temple. Some of the possible explanations are as follows.
Lack of financial or other resources forced King Bhoja to stop work.
Natural calamities such as earthquakes could be one of the reasons.
Towards the end of Bhoja reign there were impending wars.
Towards the end of Raja Bhoja's reign he was not in good health.
It could be one or more of the above reasons. However Shri K K Muhammed gave the most plausible reason. A calculation mistake must have happened which resulted in the roof collapsing . Which in turn would have damaged the Shivalingam as well. As per Hindu Scriptures (Agamas) , one cannot worship in a temple whose idol is damaged. Hence Raja Bhoja must have stopped the work.
In spite of Raja Bhoja stopping the work, people continued to worship for the last 1000 years because of the size of the Shiva Lingam. They probably thought it must have been powerful enough not to have crumbled under the weight of the falling debris.
In fact to this day, people go there to worship!
Is Bhojeshwar Temple even a temple?
There are a few telltale factors that makes one ask the question if Bhojeshwar is a temple after all? There are theories abound which seem to indicate that this temple was more a memorial or funerary monument to Raja Bhoja's father or uncle. More like that latter day Chhatris or cenotaphs. There was also practice to build temples over the remains of a human being to hasten his journey to the heavens!
Points to consider
The temple is facing west, whereas as per Vastushastra (Architectural Philosophy) main sanctum's door faces east so that the first rays of sun can fall on the deity.
There are no carvings or sculptures on three of the walls. If you have seen Khajuraho temples then you will notice that all sides are richly covered with carvings .
Some experts say that even the carvings on the front wall is of a later period.
The three false balconies may have been built to hold statues of forefathers rather than other deities.
There is no mandapa. Maybe it was not intended.
As per plan, the Shikhara (tower) would have been a rectilinear or like a pyramid but temples of Central and North India always sport curvilinear towers.
As per Muhammed ji , this could be a Tantric temple which could not be finished.
Alternatively, this was probably meant to be a temple only. It was located on the banks of a reservoir and people could take bath and enter the temple straight away.
Well, we will never know. Would we?
In the meanwhile, it was time to return to Bhopal and try as I might, I could not locate Mr. Gangu Teli. Ha ha ha! 🙂 🙂
Useful Information and FAQ
Tidbits
Other treatises on Hindu temple construction are Maanasara, Mayamada, Tantra Samuchhaya.
Raja Bhoja was once afflicted with a skin ailment. A saint told him to take bath in water from 365 tributaries and bathe from that water. He built three dams and created this huge reservoir and bathed in that. The water cured him. Thereafter he vowed to build the biggest Shiva Temple.
Some people call it Somnath of the East and some others, Somnath of the North.
Tips
It is good idea to club a trip to Bhojpur with a trip to Bhimbetka and spend a most enjoyable and educative day at both these two places.
Early evening offers the best lighting for photography, since the temple entrance faces the West,
It is a temple in service so it is better to adhere to dress code like in any other temple of India.
Keep some time to explore the grounds for the rock cut temple designs and masons markings.
Hindi terms explained
| | | |
| --- | --- | --- |
| Bhojeshwar – | भोजेश्वर | – Lord of Bhojpur |
| Dwarpal – | द्वारपाल | – Gatekeeper |
| Garbhagraha | – गर्भगृह | – Sanctum Sanctorum |
| Mandapa | – मंडप | Pavilion |
| Raja | – राजा | King or Ruler |
| Shikhara | – शिखर | The peak or in this case the tower part of the temple. It is called Vimana in South India |
| Shiva | – शिव | One of the three major gods as per Hindu religion |
| "Kahan Raja Bhoj, Kahan Gangu Teli" | कहाँ राजा भोज , कहाँ गंगू तेली | It is an old Indian saying. It means trying to compare two incomparables, One which is significant and the other trivial & inconsequential. (comparing the king with the poor oil-presser named Gangu. |
| | | |
How to reach Bhojpur?
By Air: Nearest Airport is Bhopal. From there you may take a public bus or hire a cab.
By Train: Nearest Train Station is Bhopal. From there you may take public bus or hire a cab.
By Road: Bhopal to Chanderi – 30 Km. There are plenty of private and public buses. One may also take a cab for a round trip. It is best to club Bhojpur with Bhimbetka and make a full day trip.
Would you like us to plan a multi-days customized itinerary in this region? We would be happy to do it for you.
Please contact us at [email protected]
Best time to visit Bhojpur
Bhojpur is a 365 days destination. Bhojpur has similar climate as Bhopal and it is best to combine a visit to Bhopal with a day trip from Bhopal to Bhimbetka and Bhojpur. Summers will feel hotter when you walk among rocks and stones. If you consider the weather then Winter and Spring is undeniably the best time to visit Bhojpur.
Resorts and Hotels in Bhopal
The following are some of the better options.
Places to stay in Bhopal
Jahan Numa Retreat
Jahan Numa Palace
Hotel Amer Palace Bhopal
Hotel Shree Vatika
Other Articles on Madhya Pradesh
Exploring Orchha Fort Complex
Allure of Udayagiri Caves
Top things to do in Chanderi
Photograph Copyright
All the photographs used in this article belong to the owners of this website www.lemonicks.com. Copying or using them without explicit permission is prohibited and will amount to copyright infringement.
Are you on Pinterest? PIN this post for later use.
If you want to travel places with us, we invite you to join our feed or Facebook travel page.
P.S.- This article, Unfinished Bhojeshwar Shiva Temple in Bhojpur belongs to Le Monde, the Poetic Travels, an Indian Travel Blog, published by the traveling couple, Nisha & Vasudevan. Reproduction without explicit permission is prohibited. If you are viewing this on another website other than the RSS feed reader or www.lemonicks.com itself, then that website is guilty of stealing our content. Kindly do us a favour by letting us know via Contact Us. Thank you.
Disclaimer: Our trip was in collaboration with Times Passion Trail and Madhya Pradesh Tourism. The opinions, as always, are our own.
भोजपुर का अधूरा भोजेश्वर शिव मंदिर