Last week I happen to visit Madanapalle Rishi Valley School on a short notice. Madanapalle is in Andhra Pradesh, 130 Kms from Bangalore. Also known as Shantiniketan of South India and The Ooty of Andhra, it is a lovely place to deserve a visit. Why ? Read on. 🙂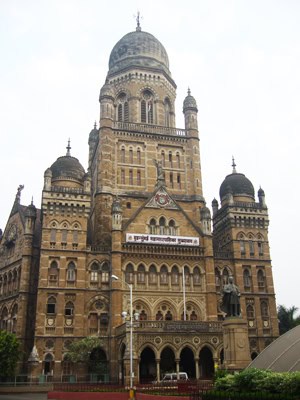 In all, it was a three day trip including one day in train. Well, when I am asked to accompany someone, I put my conditions sometimes. 😉
So while going it was my way of traveling (train, bus, autoricksha), the return was private taxi & airplane. Don't ask me why I choose train over airplane, the reason being very simple.. most of the time I travel by air so whenever I get a chance I want to remain grounded.
It started on Saturday morning 6 AM. We went to VT station to catch Udyan Express to Bangalore. It was my first visit to VT station. Next morning at around 9:15 AM we reached Bangalore City station.
From Bangalore we had kept the options open for onwards journey. We were told that the best way to go to Rishi Valley is to hire a cab or take a deluxe coach from a certain bus stand called Kalasapalayam. But after reaching Bangalore, we found out that Kalasapalayam is around 5 Kms from the station and the private cabbies were asking for whopping Rs 3000.00 !! The reason ? Toll at Karnataka/ AP border being Rs 800.00.
Nonetheless, after having breakfast I literally forced my companions against their wishes to proceed towards State bus depot. I am always keen to see the interiors of any place (India or abroad) and the best way is to travel in the most commonly used means of transport. So was the case here also. The buses for Madanapalle ply every hour and to my surprise they were not that bad as I have seen some other state transport buses. We took the 11 AM bus. The route was Hoskote, Chintamani, and Madanapalle.
The journey was quite comfortable. The bus was in good shape (better than BEST buses), good cushioned seats & no broken windows. The conductor had a ticket vending machine which gives a small printout of the ticket. For us, the sign language spoke. 🙂
While others fell asleep, my camera was giving me company. Clicked around 50-60 pictures in that period. It was nice to see some co-passengers like cocks/hen.
From Madanapalle, Rishi Valley School is another 16 Kms towards Anantpur for which we had to take an autoricksha for RS 150.00 as no cab was available.
Rishi Valley School – The school, a modern Gurukulam is founded by Shri Jiddu Krishnamurthy. I should say I was very fortunate to get a real insight into the system of education followed in the school.
The over 350 acres school surrounded by majestic hills with a view of plush green valleys, looks like a self-contained village. It is said that the wonderful location was hand-picked by the founder himself. The climate is pleasant throughout the year and a visit to the school is like taking a vacation in some exotic hill station.
The two aspects that impressed me are that there are no day scholars in the school and so everyone is on equal grounds and the other one is that all the teachers live in the campus. In all, there are around 320 students and 60 teachers. With teacher-student ratio at 1:5, you can very well imagine what kind of attention each student gets. The students live in two-storied houses and for every five students there is one house patron.
There are many teachers who are RV products themselves. No school uniform, no fear of teachers, just happy learning, I wish I studied there.
The classes are not always conducted in class rooms…one can see groups of students and a teacher seated under trees, on stone benches or on long steps that are fixed here and there. Many times teachers are invited from other countries as well.
Importance of recycling and use of biodegradable material is not just a text book topic there and the use of plastic and polythene bags are prohibited.. I was wondering how the kids follow it in a positive way without complaining.
Wild life preservation, environmental awareness, appreciation of nature, kindness to animals are areas which are emphasized upon. Even the snakes that are found commonly are caught and taken away to be left loose in a remote area.
It has its own dairy farm, own 'dhobi-ghaat', a swimming pool, a few tennis courts, 2 large sized playgrounds.
This is one of the playgrounds Rishi Valley School at Madanapalle.
More on Madanapalle in my next post. For more on Rishi Valley School, read here.
Photograph Copyright
All photographs used in this article belong to the owners of this website www.lemonicks.com unless otherwise specified. Copying or using them without explicit permission is prohibited and will amount to copyright infringement.
If you want to travel places with us, we invite you to join our feed or Facebook travel page.
P.S.- This article, Madanapalle Rishi Valley School belongs to Le Monde, the Poetic Travels, one of the top Indian Travel Blogs, published by the traveling couple bloggers, Nisha & Vasudevan. Reproduction without explicit permission is prohibited. If you are viewing this on another website other than the RSS feed reader or www.lemonicks.com itself, then that website is guilty of stealing our content. Kindly do us a favour by letting us know via Contact Us. Thank you.