Modhera Sun Temple – A Road Trip from Ahmedabad
Right through my school days, the mere mention of Surya Mandir or Sun Temple always conjured up images of Konark Temple in Odisha. I now think it was because Konark Temple is big and spread over a large area and the temple itself shaped like a chariot, which in itself is unique. It was only later in life I came to know about Modhera Surya Mandir, a Sun Temple in Gujarat and a few others. After seeing Modhera Temple's images on the internet, we made a mental note to drive to this place whenever we went to Ahmedabad.
Hotels to suit every pocket in Ahmedabad. Book your hotel now!
Republished with updated content 2-Nov-2023
True to that promise we made to ourselves, when we got an opportunity to visit Ahmedabad, during the kite festival, we included a road trip to explore Modhera Sun Temple amongst other places.
Worshipping the Sun God or Surya Dev
From time immemorial, even during the Vedic period, Sun and Fire were being worshipped as a symbol of energy and life. There are quite a few scriptures that mention the importance of praying to the Sun. So much so, the books talk of 12 different manifestations of Sun called the Adityas and hence many temples were also dedicated to the Sun God or Surya Dev to faciliate worship by the devotees.
Surya Namaskar in Yoga or the Sun Salutation is an elaborate sequence of hand, legs and body movements which are now quite popular when doing Yoga. There are 12 asanas (yoga poses) that complete one cycle of Surya Namaskar. It is said that with each cycle one is expected to chant a mantra dedicated to one of Adityas. With the second cycle, second Aditya, and so on.
Modhera Sun Temple (Modhera Surya Mandir)
Modhera Surya Mandir is located on the banks of the Pushpavati river in Mehsana district of Gujarat at a distance of about 100 KM from Ahmedabad. It is a unesco world heritage centre.
So what to do in modhera?
It was already noon when we started from Ahmedabad. Generally speaking, we always start early on any road trip, but this day was different . It was the day of Uttarayan and every terrace was crowded with people flying kites. We became kids with our hosts' kids and were screaming and shouting "Kai Po Che" whenever another's kite was "cut".
The green farms on both sides were so soothing and made driving all the more enjoyable, so much so that, we stopped for some time and did some camera work near a mustard field full of yellow flowers.
The drive did not last long, just about two and half hours, which was good speed, considering the traffic and roads conditions.
Architectural Layout of Modhera Surya Mandir
The Modhera Sun Temple complex can be divided into three parts. The whole temple lies on East-West axis, almost on the Tropic of Cancer. The Sanctum Sanctorum was designed in such a way that twice every year, on equinox days, the Deity of Sun (not there now) received the first rays of the morning sun.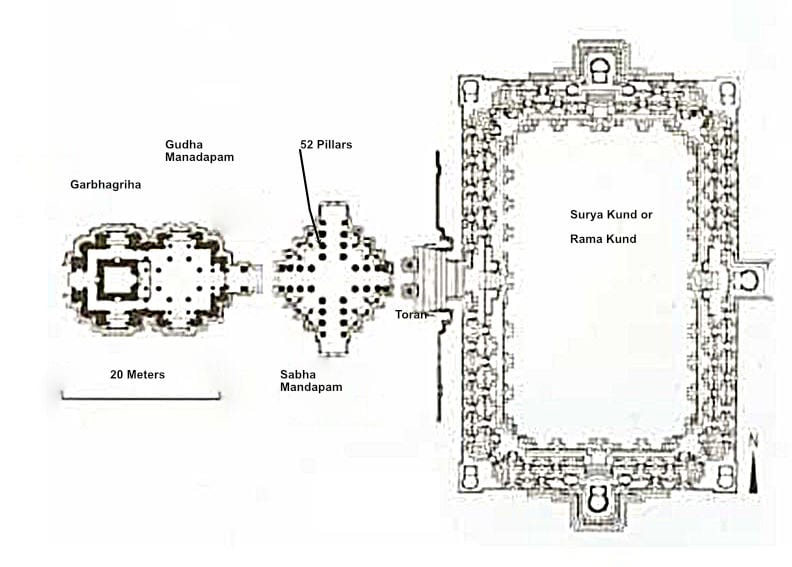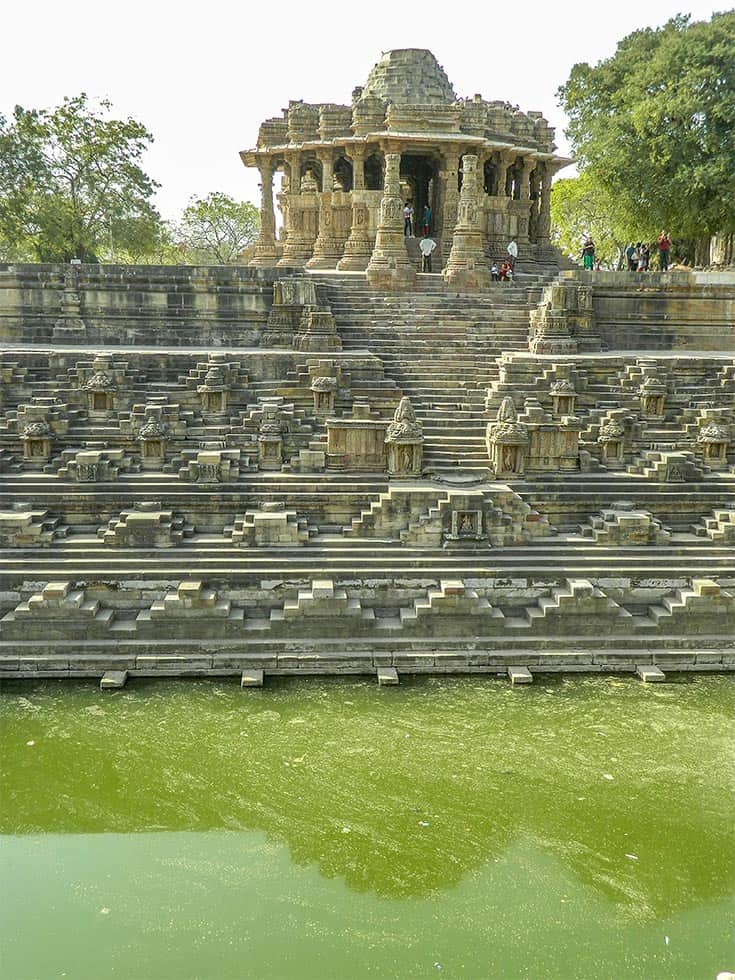 Surya kund or Ramakund, the Step well: A marvel in stone and water
The holy tank or the Kund, is called Ramakund or Suryakund. The steps leading to the water is the first thing that attracts you. There are steps all around and one can climb down from any side. The unique feature is the steps do not going straight down to the water but small flights of steps are positioned sideways, except the last few steps. I think this must be a safety feature. If one slips he falls only a few feet. Good thinking!
The steps are interspersed with several shrines dedicated to various gods, 108 in all. We were in awe to see such a beautiful reservoir in such a good condition. It is definitely worth spending some time getting down and going around the tank.
Sabha mandapam
Unveiling the Sabhamandap: A set of steep steps from the holy tank, leads up to a platform on which the second structure, the Sabhamandapam or Rangamandapam, is located. Mandapam in Sanskrit means a pavilion where people may congregate and is standard feature in all Hindu temples. Sabha means a meeting or a conclave and Ranga here may mean entertainment. It was, and still is, a common practice to have dances and music in the temple premises. In fact, a dance festival is organized by Gujarat Tourism in the month of January every year, called the Modhera Dance Festival .
The intricately sculpted pillars and walls, with various dancers, musicians and other characters from the religious books, makes one wonder, how did the artisans achieve this level of accuracy! The hall features 52 intricately carved pillars, each telling a story of devotion and artistry. The meticulously detailed sculptures, depicting scenes from Hindu mythology, invite you to unravel the secrets of the past while you bask in the gentle play of sunlight filtering through the intricately designed ceiling.

The number 52 holds symbolic significance in the Modhera Sun Temple. It is often associated with the 52 weeks in a year, representing the cyclical nature of time and the solar calendar. Each pillar may correspond to a specific week, aligning with the temple's dedication to the sun god. It emphasizes the connection between the temple's design and the solar calendar, reflecting the importance of time and cosmic order in Hindu cosmology.
Even the domed ceiling is so beautiful, with concentric circles of varying designs.
Gudhamandapam (Guda mandapam)
The last structure is the most important and is actually the temple, Gudhamandapam (Guda Mandapa) which includes a hall for the devotees and the main sanctum sanctorum called Garbhagraham, for the idol of the deity, in this case, the Sun God, Surya.
The Sun temple faces east because the Sun rises in the east. This is in departure from the normal direction of almost all other temples, which faces west.
Like in the dance pavilion, there are carvings, sculptures from religious books all around. It is best to take a torch inside as it may be too dark inside, especially if you want to see the dome from inside. Flashing a torch at the dome, you will also find a colony of bats!
Outside walls are also covered with intricate carvings of gods and godesses.You will also find erotic carvings, much like Khajuraho, as part of its architectural ornamentation. In those days, erotic art was not a taboo at all. These sensuous sculptures, depicting amorous scenes and fertility symbols, reflect the celebration of life and sensuality in Hindu culture.
Modhera Sun Temple Illumination
During the Modhera Dance Festival, the temple is illuminated by colorful lights forming a backdrop to the Indian classical dances being performed. To increase tourism to this place, as the sun sets, the Kund comes alive with a mesmerizing play of light and shadow, evoking an otherworldly ambiance.
It is truly spectacular and must be witnessed personally.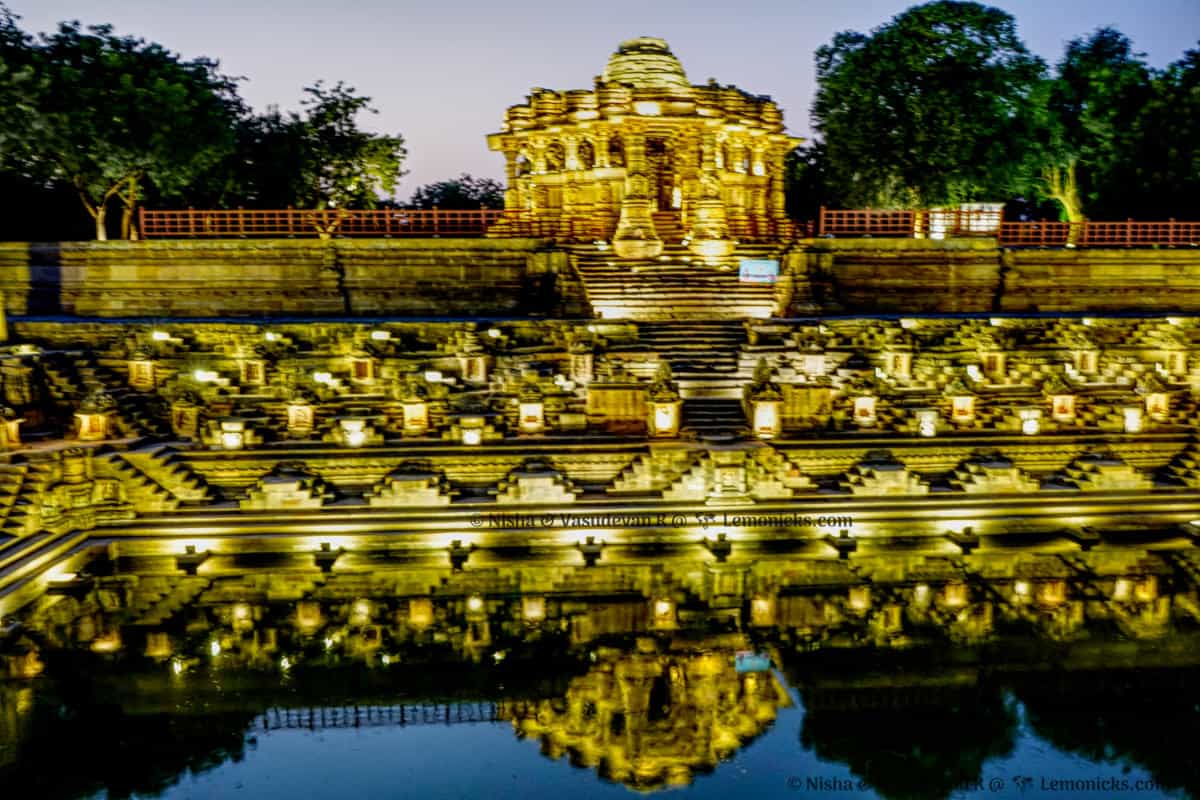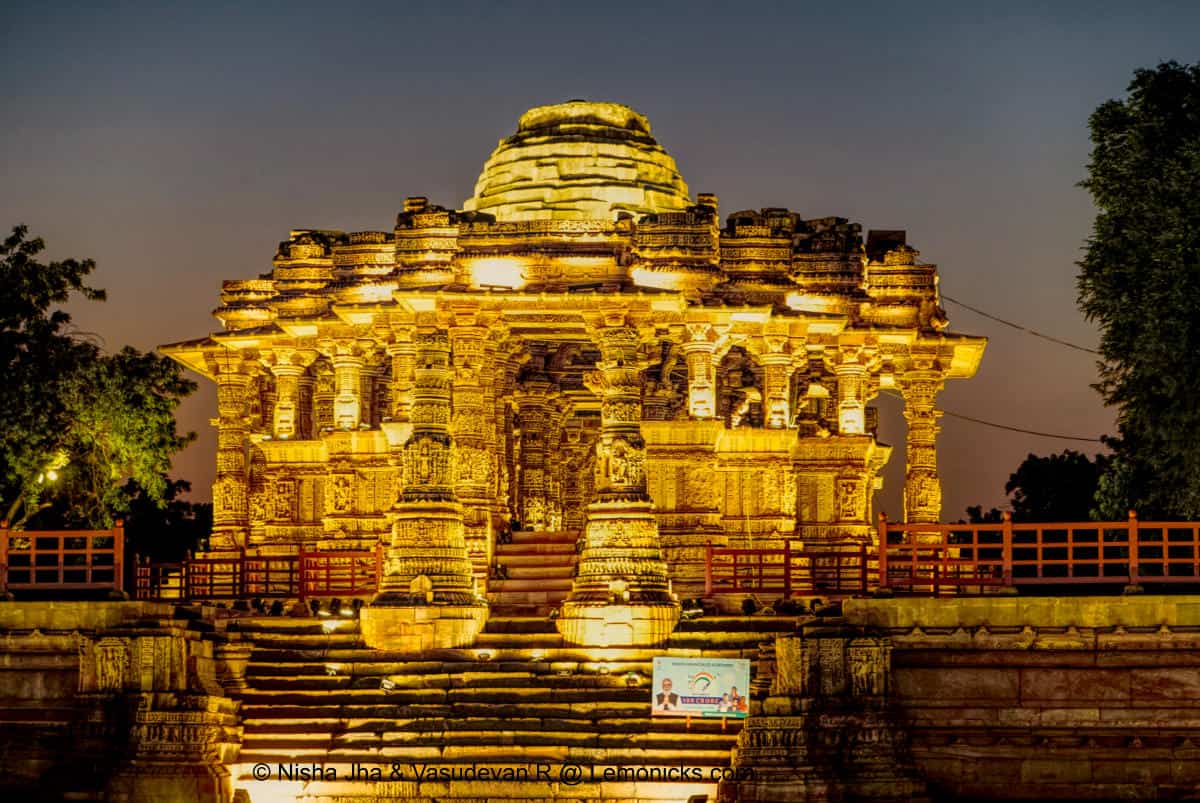 All in all, for it was a day well spent at this magnificent Sun Temple complex.
History of Modhera Surya Mandir, the Sun Temple

Nestled in the heart of the vibrant Indian state of Gujarat, the Modhera Sun Temple stands as a testament to architectural brilliance and spiritual devotion. The sun temple is an ancient marvel, dating back to the 11th century, is a beacon of light and spirituality, dedicated to the worship of the Sun God, Surya. With its captivating history and intricate craftsmanship, the Modhera Sun Temple is a treasure trove of India's rich cultural heritage.
The history of the Modhera Sun Temple is a tale of artistic excellence and religious fervor. It was built in 1026-27 AD during the reign of King Bhimdev I of the Solanki dynasty, a time when India was flourishing with artistic and architectural accomplishments. The temple was designed to align perfectly with the rising sun during the equinoxes, highlighting the significance of solar worship in Hinduism. The complex features a stunning stepped tank, known as the Surya Kund, with 108 miniature shrines, intricately carved pillars, and an exquisitely crafted sanctum sanctorum dedicated to the Sun God.
Modhera or Modherapura also known as Mundera is said to have been the original settlement of Modha Brahmans.
We were surprised to learn that Modhera Surya Mandir was older than Konark by over 2 centuries!
Stories relating to Ramayana and Lord Rama:
As per Hindu Scriptures, there was always a temple dedicated to Sun God here. It is said, as per Skanda-Purana, the King Rama, while returning after killing Ravana, wanted to wash his sins of killing a Brahman (brahma-hatya). He is said to have performed a yagna to cleanse his sins.
Sage Vasishta helped him perform this yagna. Another local legend says that the priest helping him perform the yagna belonged to the community Modh. Hence the name Modhera. There are, of course, many stories each as interesting as the other.
Another story is that the modha Brahmans received Modhera as a krsnarpana (divine gift) during the sacred union of Rama and Sita.
The legacy continues as he established the village of Sitapura nearby, approximately 8 km from Becharagi. The village Modherah, mentioned in ancient texts, eventually evolved into the renowned Modhera.
Intricately carved, the Modhera Sun Temple stands as a symbol of India's rich architectural heritage and deep-rooted spirituality. Its history is a testament to the grandeur of the Solanki dynasty and the enduring allure of the Sun God's worship. As you explore this ancient marvel, be prepared to embark on a captivating journey through time, basking in the glorious radiance of the Modhera Sun Temple, where history, spirituality, and artistry converge in a stunning symphony.
Useful Information about Modhera Surya Mandir
Location
Latitude,Longitude: 23.5825005,72.1273084
Enter these coordinates on any map application and it will take your there.
How to reach Modhera Surya Mandir, Modhera Sun Temple
The nearest Airport is Ahmedabad, which is around 100 KM away.
The nearest Railhead is Mehsana about 30 KM away.
There are regular buses from Mehsana and Ahmedabad.
It takes about 2.5 hours to drive to Modhera Sun Temple from Ahmedabad.
Visiting Hours : 07.00 AM to 6.00 PM. From 6:00 PM to 9:00 PM one can enter the premises to see the illumination but not the temple.

Entry Ticket Price : INR 25 for Indian, SAARC and BIMSTEC citizens. For other foreigners, it is INR 300. Free entry for children below 15 years of age.
Where to stay?
Best place to stay would be Ahmedabad, from there Modhera village is just a day trip.
Booking.com : Hotels in Ahmedabad. Book your hotel now!
Package tours!
While you can visit Modhera Temple on your own, in case you want to book a package tour then click below for Patan And Modhera Day Trip From Ahmedabad through Klook Tours!
Frequently Asked Questions – FAQ on Modhera Sun Temple
Which are the other popular sun temples in India?
Suryanar Kovil, Kumbakonam in Tamilnadu is a few years younger than Modhera Temple and is built in the typical South Indian Temple Architecture.
Martand Sun Temple, in Jammu and Kashmir is the oldest Sun Temple in India built around the middle of the 8th century. Except for the central structure, it is in ruins. 
Why is Modhera Sun Temple famous? What is the significance of the Sun Temple of Modhera?
The Modhera Sun Temple is renowned for its exquisite architecture and historical significance. Located in Gujarat, India, it's a prime example of Hindu temple design. Its intricate carvings, celestial alignment, and stunning craftsmanship attract tourists and art enthusiasts. Explore this sun temple to witness India's rich cultural heritage.
Is Sun Temple Modhera worth visiting? What is the speciality of Modehra?
Yes, Sun Temple Modhera is a captivating historical site in Gujarat, India, renowned for its stunning architecture and cultural significance. With its intricate carvings and breathtaking design, this UNESCO World Heritage Site offers a memorable experience for history enthusiasts and travelers seeking architectural marvels. Don't miss this gem during your visit to Gujarat!
What is the mystery of the Sun Temple of Modhera?
The Sun Temple of Modhera is an ancient Hindu temple in Gujarat, India. Its mystery lies in its stunning architecture, intricate carvings, and celestial alignment. Built in the 11th century, it's a marvel of solstice alignment, symbolizing cosmic harmony. This UNESCO World Heritage Site continues to captivate historians and tourists alike.
When was the Sun Temple of Modhera built?
The temple was constructed in the 11th century, during the reign of King Bhimdev I, showcasing exquisite architecture of the era.
Is the Sun Temple of Modhera a UNESCO World Heritage Site?
Yes, the temple has received recognition as a UNESCO World Heritage Site due to its cultural and historical significance.
Can visitors witness solstice alignments at the temple?
Yes, the temple's architecture allows for solstice alignments during specific times of the year, adding to its allure.
What are the key features of the Sun Temple of Modhera that tourists should explore?
Visitors can admire the temple's intricate carvings, grand architecture, and serene surroundings, making it a must-visit destination for history and art enthusiasts.
What is the best time to visit the Sun Temple of Modhera?
The temple is best visited during the winter months, from October to March, when the weather is pleasant, and cultural events are held.
Are there guided tours available at the Sun Temple of Modhera?
Yes, guided tours are offered to provide visitors with insights into the temple's history, architecture, and cultural significance.
Are there nearby attractions to explore in the vicinity of the Sun Temple of Modhera?
Yes, tourists can explore nearby attractions like Rani Ki Vav, Patan's historical town, and stepwells, enhancing their cultural and historical experience in the region.
It is also famous for its beautiful Patola silk saris.
What is the style of architecture used in this temple
Modhera is built as per Maru-Gurjara style of temple architecture which originated in the present day Rajasthan and Gujarat. It is also called Solanki style of architecture as it wa built by a Solanki king.
The highlights of this style is the presence of intricate carvings, presence of a Antaral , a small portch before entering the Garbhabriha and artistic domes. This style is prevalent in both Hindu and Jain temples.
The temples' outer walls showcase a deliberate arrangement of protrusions and recesses, providing spaces for intricately carved statues within carefully crafted niches.
How much time is required to see this unique temple?
The time required to see the unique Modhera Temple can vary depending on your pace and level of interest. On average, it may take approximately 1 to 2 hours to explore and appreciate the temple's architecture and historical significance.
What time is the laser show in the Modhera Sun Temple?
The laser light show is at 7:00PM and lasts for about 20 minutes.
See below for interesting articles on Gujarat
Gujarat
The Indian Border Security Force was raised to protect our borders from unfriendly neighbours after …
Photograph Copyright
All the photographs used in this article belong to the owners of this website www.lemonicks.com. Copying or using them without explicit permission is prohibited and will amount to copyright infringement.
Are you on Pinterest? Pin these!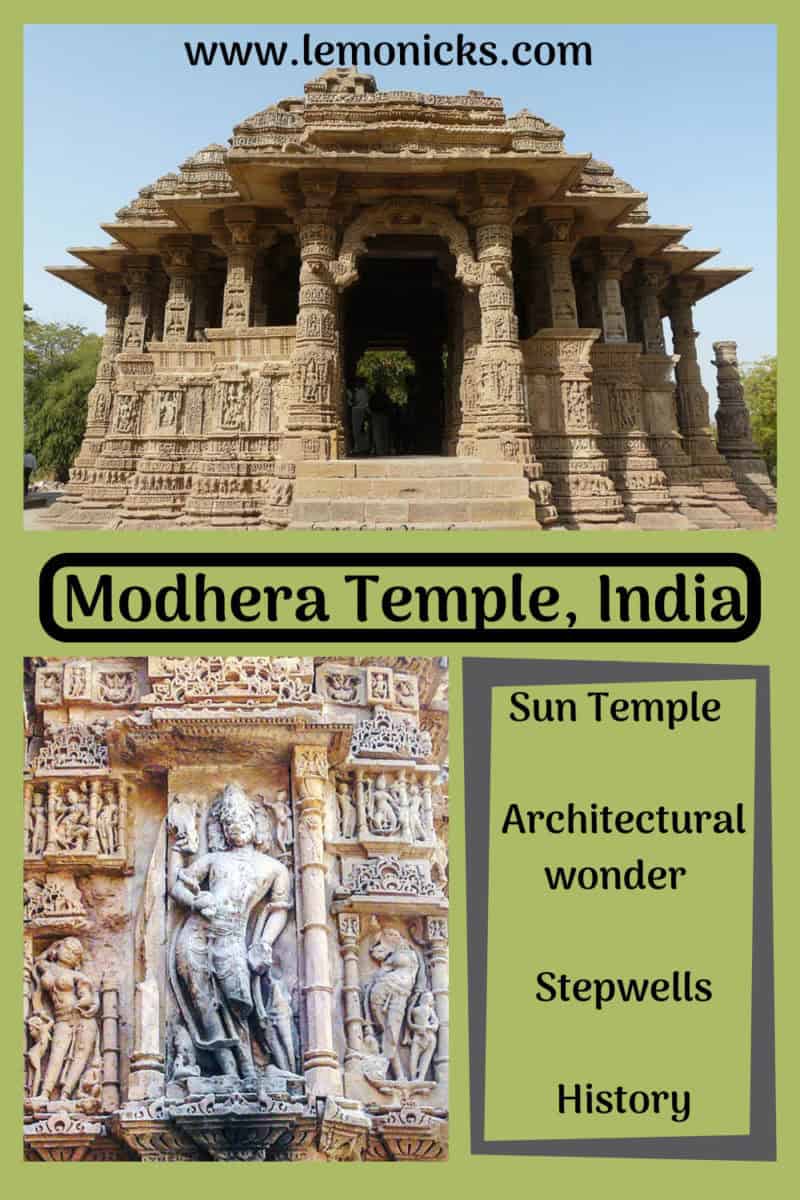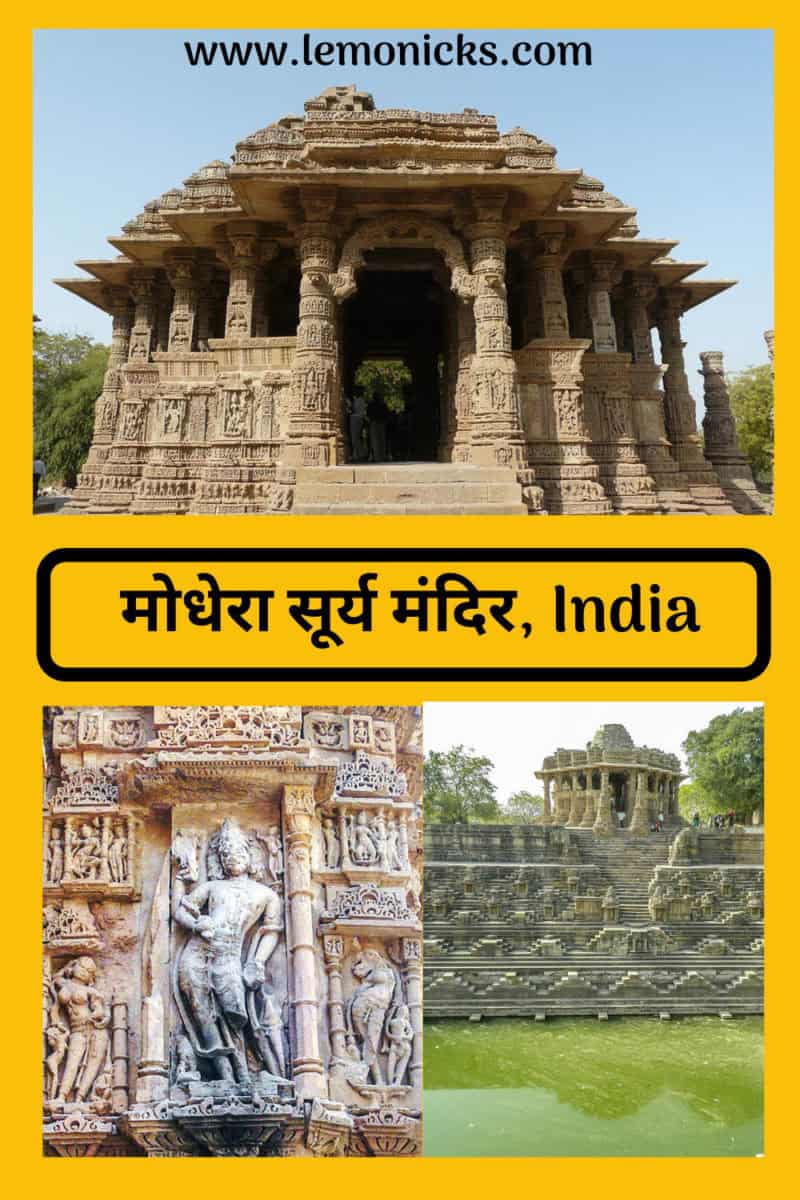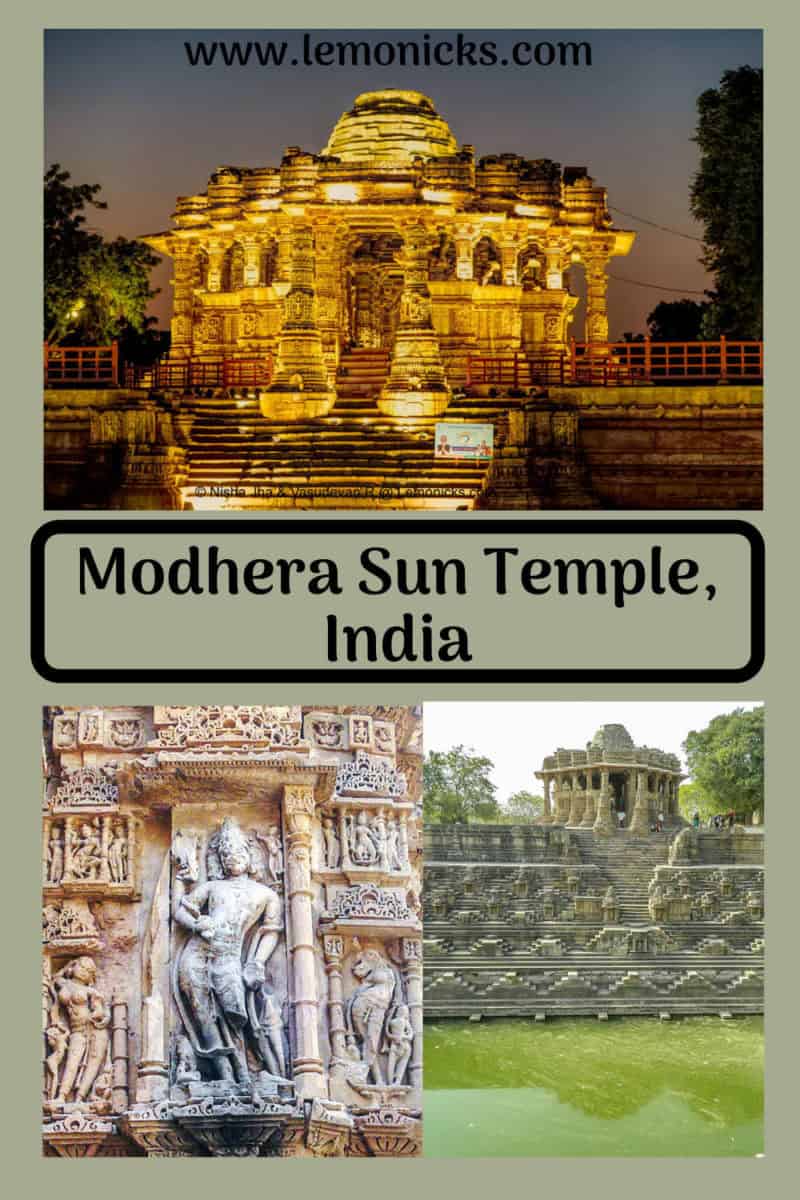 If you want to travel places with us, we invite you to join our feed or Facebook travel page.
P.S.- This article, Modhera Surya Temple belongs to Le Monde, the Poetic Travels, an Indian Travel Blog, published by the traveling couple, Nisha & Vasudevan. Reproduction without explicit permission is prohibited. If you are viewing this on another website other than the RSS feed reader or www.lemonicks.com itself, then that website is guilty of stealing our content. Kindly do us a favour by letting us know via Contact Us. Thank you.