Mark Twain called it "paradise", and Joseph Conrad "a pearl". The visuals of turquoise blue waters and white sand beaches pop up in our minds on hearing Mauritius. No doubt Mauritius is one of those few places in the world you can fall in love with immediately… even before landing.
But is that all? Is Mauritius only about picture perfect beaches? Have you ever wondered what else can Mauritius boast about? Mauritius isn't just about beautiful beaches.
⇓⇓ Pin it if you like it. ⇓⇓
Reasons to visit Mauritius Beyond Beaches
Very few people know that Mauritius has another side to it which gets overlooked. With history of different cultures, geological wonders, natural spectacles there is much more to this tiny gorgeous island called Mauritius.
If you are planning to visit the country, explore a different Mauritius besides just the beaches. Experience the new Mauritius!
Indulge in history
Much like India, the history of Mauritius is also linked to the British. In 1834, the British government chose Mauritius to bring in labourers on contract from other countries. Thus Apravasi Ghat became the place where Indians & Africans set their first step on Mauritian soil. They came via sea to work, mostly as plantation workers in sugarcane fields. Now a UNESCO World Heritage site, it also houses a museum that narrates the story of the role it played in Mauritian history.
Tip: The tour is free but photography is not allowed inside.
In contrast, Chateau Labourdonnais, another beautiful heritage site, tells us about the other side of plantation history… i.e. of the people who owned the plantations. Inspired by Italian neo-classical architecture, the residence was built mainly from teak wood and has a double colonnaded gallery.
Explore Greener pastures of Mauritius
Mauritius National Botanical Garden is one place you should start your explorations if you want to see Mauritius beyond beaches. Formally known as Sir Seewoosagur Botanic Garden, it is one of the most visited attractions in Mauritius.
The garden is located in the district of Pamplemousse. It was initially opened as a private garden by the French governor of Mauritius nearly 300 years ago, later to become the national botanical garden of Mauritius.
The garden is so big that if you are really interested to explore it thoroughly, it might take a few days to cover the whole garden! It is populated with more than 650 varieties of plants among which are the famous Baobabs, the Palmier Bouteille, the ineluctable Giant Water Lilies, medicinal plants, a large spice garden and many more.
One of the main attractions of the botanical garden is the 85 different varieties of palm trees brought from different corners of the world. Other indigenous species of plants are also exhibited here.
Charge: MUR 500
If you are interested in seeing the lush green natural carpets, head over to Le Telfair & Golf course for a game of golf or two.
Wildlife in Mauritius
I can visit Mauritius just for this reason! For those who are interested in wildlife, Mauritius has plenty to offer. Though it has a relatively low diversity of wildlife compared to other African countries, you can still enjoy Lions, Caracals, Tigers, Zebras, Ostriches, Deer, African Antelopes, White Rhinoceros, Impalas, Kudus, Camels, Mauritius Kestrel and many more. Many of these are now extinct, for example the ever famous Dodo.
Casela World of Adventures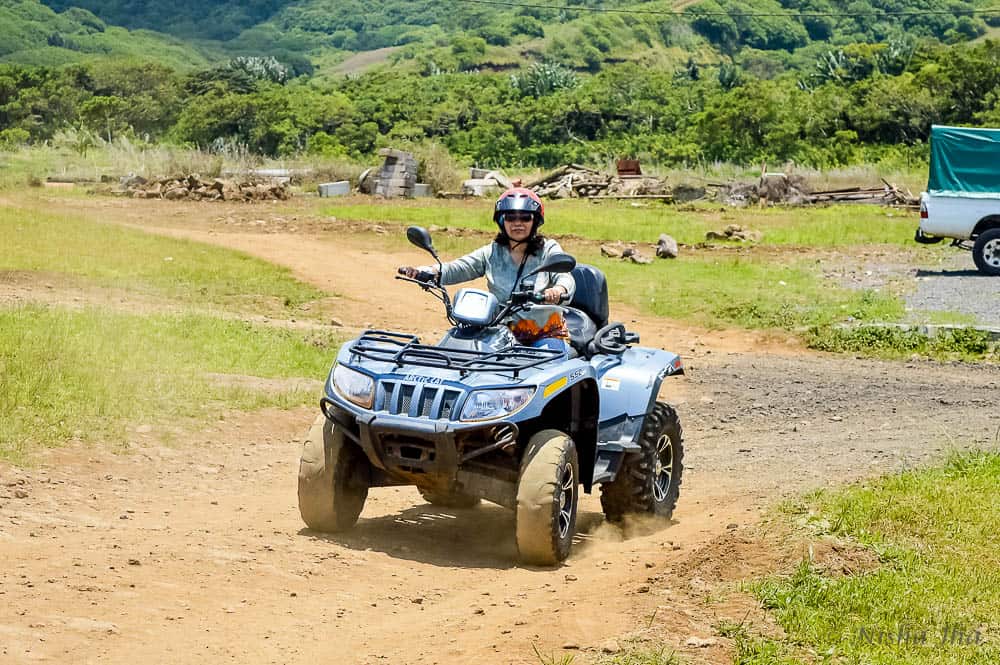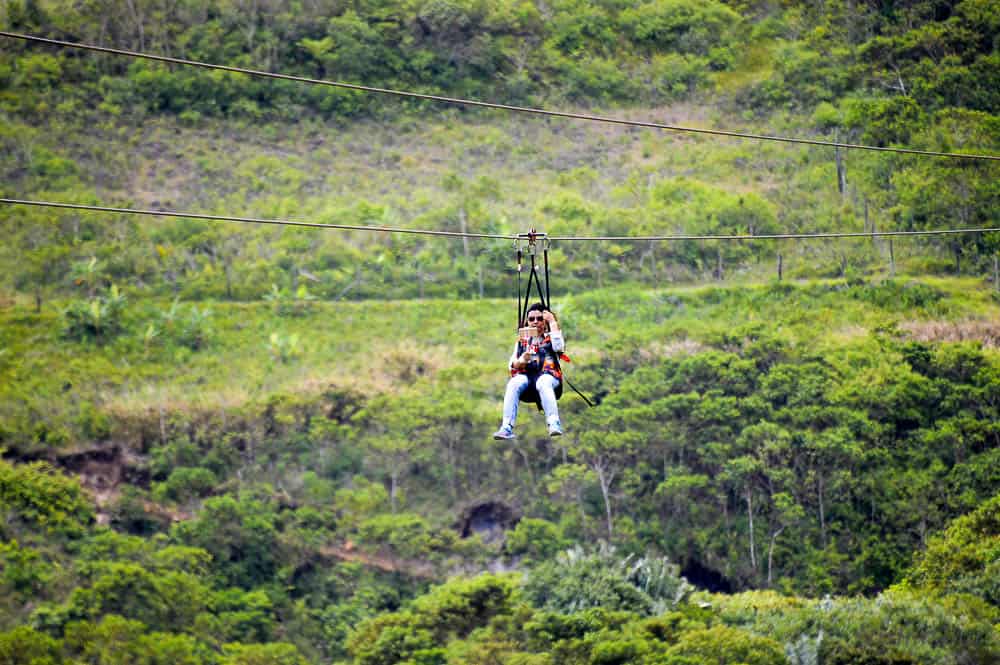 Nature, wildlife and adventure, all three put together makes a Casela World of Adventures. 😀 You can rough it out on a quad bike, or a slow Segway, hang on to ziplines, or if you don't mind, unchained lions are waiting in their enclosures to hang out with you! You can feed the giraffes or ostriches, say hello to Zebras by taking a safari. The park is a great attraction for even kids.
Time: 9 Am to 5 PM
Charge: Adults Rs 700, Children Rs 450 for children between 3 and 12 years. If you book online, you'll get 10% discount.
Visit Château de Labourdonnais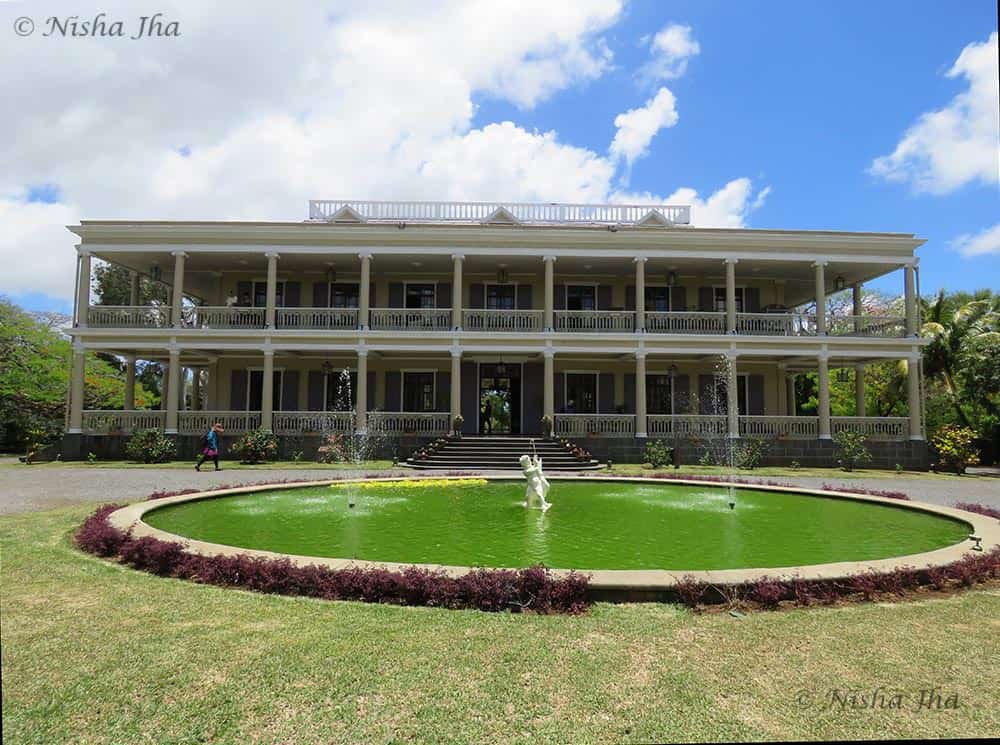 Château de Labourdonnais was built in 1859 and is an architectural masterpiece. This is an ancestral home that belongs to Christian Wiehe and his family. The château is split into two levels. The interesting thing about the architecture is that the ground floor consisting of dining room is decorated in the Victorian style whereas the bedroom on the first floor has been designed in French style.
The grand colonial home is surrounded by beautiful gardens, orchards of guavas, passion fruits and mangoes. Furthermore, a tasting bar to try their own rums and a souvenir boutique adorn it. The boutique also has jams, fruit jellies, fruit juices and sorbets made using natural fruit flavours from the orchards at Labourdonnais.
Charge: Adults Rs 750 and children Rs 400. The fee includes a guided tour of the château and a tasting of rum at The Tasting Bar.
Visit Curious corner
Curious Corner, as the name suggests, is for those of us who have curious and inquisitive minds and like to indulge in some harmless fun. Adults and kids, both are equally treated. I liked it very much.
So, if you are tired after indulging in self pampering activities and you want to give your brain some stimulating work out, then the answer is Curious Corner. Seems like, it is a house filled with a variety of delusional fantasies. As soon as you walk in, you and your brain, are both challenged to stir your straight forward thinking.
Seven-Coloured Earths at Chamarel
Again, this is one of the places which is not near a beach! Also, one of the more touristy spots in Mauritius. This seven-coloured earth is a rare natural phenomenon that is a must visit. This geological formation is said to have occurred as a result of decomposed basalt gullies. This decomposition was aided by the island's hot and humid climate. It is said that if you mix the coloured sands together, they'll eventually settle into separate layers.
So, just the sight of this colourful sand is incredible. The dunes are protected by a wooden fence with two viewing posts for tourists. Furthermore, what is most fascinating is, that the colours haven't eroded in spite of the torrential rainfall Mauritius receives.
Charge: Rs 400 for adults and Rs 200 for children.
So, do not overlook a visit to Mauritius even if you are not a beach person. There is much more than pristine beaches. Experience the new Mauritius!
Spread the word! PIN this to your Travel Pinterest boards ↓
Photograph Copyright
All the photographs used in this article belong to the owners of this website www.lemonicks.com. Copying or using them without explicit permission is prohibited and will amount to copyright infringement.
If you want to travel places with us, we suggest you to join us on our Facebook travel page and Twitter.
P.S.- This article belongs to www.lemonicks.com. Reproduction without explicit permission is prohibited. If you are viewing this on a website instead of your RSS feed reader, then that website is guilty of stealing my content. Kindly do me a favour. Please visit my site and help me taking action by letting me know against this theft. Thank you.